This post may contain affiliate links. Please check out my disclaimer for more information.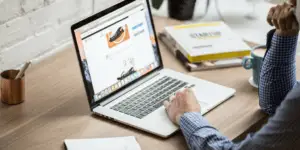 I absolutely love reading blog reports. There, I said it.
Though I've always enjoyed reading them on other blogs, I have never considered writing any kind of traffic/income/blog report before.
Here's the thing though – January was a REALLY good month for NinjaBudgeter. All of my stats are up across the board, and as I was celebrating my first 'viral' (term used very loosely) Pin a few weeks ago over a mug of delicious winter ale, I thought perhaps my blogging friends would be interested in knowing what's going on.
So I threw this out there on Twitter:

I had 17 responses, all of them were "Heck yes"…or something like that. Since there seems to be a consensus, I'd like to welcome you to the FIRST EVER NinjaBudgeter blog report. Boom.
How I got started with blogging
In case you don't know my story, I'm not new to blogging. I've had several sites in the past ranging from a Seinfeild-esque blog about literally nothing to niche sites about vacuum cleaners and how to get a pilot license (yes, I have one). I talked about this recently on the Do You Even Blog podcast.
I've had a bit of success, and made a few hundred dollars but nothing has ever really taken off for me.
I started this site in November of 2016 with the intention of making the best personal finance resource out there for millennial parents. I came out of the gate running and started pumping out content and connecting with other bloggers and readers fairly quickly.
The dishwasher debacle of '17
All of the effort I was putting into growing this site was diverted to a massive home renovation last year. Long story short, we found out that our dishwasher had been leaking for months. It had ruined our subfloor, cabinetry, carpet, and our Spring.
My dreams of internet fame and unprecedented blogging success gave way to tearing up carpet and choosing paint colors…
I ended up spending the Spring and part of the Summer renovating the entire lower level of our house. It's only about 600sq/ft but that's a lot for one guy with very little construction experience.
All in all it looks fantastic and I'm happy looking back on it but it was a tough time.
When I started blogging again late-summer I was determined to get my traffic up. I pushed and pushed and my traffic just stayed flat.
And Then Pinterest happened
In December, I started applying to join group boards. It started out slow (it's really discouraging when you start) but through the month I ended up getting on around 15 group boards.
Also in December, I purchased Tailwind. If you're not familiar with Tailwind it's a Pinterest scheduling tool that dramatically reduces the amount of time spent on Pinterest. It was just what I was looking for.
I was happily pinning away and getting a few views per day from Pinterest, nothing special.
And then this happened…


Courtesy of a 'mini viral' pin, I had my biggest traffic day yet, 606 page views.
Frankly, I was blown away. I knew that getting big traffic from Pinterest was possible, but my mediocre pin designs didn't seem to be doing the trick.
From the moment I saw that first traffic spike, I knew that I needed to put most of my social effort into Pinterest.
My traffic settled back down, though a little higher than before. I've had a few more spikes like that, but have not yet broken 1k views in a day. I'm hoping I can do that before the end of Feb.
January Traffic
So without further ado, my total for pageviews in January was 5,668. This is up more than 3x from the previous month when I had 1,672 pageviews.
Now, depending on where you're at in your blogging journey, this might seem terrible or awesome. For me, it's awesome.
As you can see below, it's the best month I've ever had by more than double.


I am on track to beat it in February and I'm excited for what the rest of 2018 will bring in terms of traffic.
January blog income
Nothing to report here yet. I did not earn any money from the site in January.
Other January happenings
After my spike in traffic convinced me that Pinterest needed to be a priority. Since my design skills are lacking (that's putting it politely), I decided to buy The Perfect Pin by the boys at Breaking The One Percent.
It's a fairly short course that covers the important aspects of Pin design. For me, it was perfect. Anything more detailed and I would have gotten lost in the design stuff. I'm not a designer, I draw stick people. I just wanted to know the basics so I could design nice pins and continue this traffic curve.
Here's an example of a before pin and an after pin.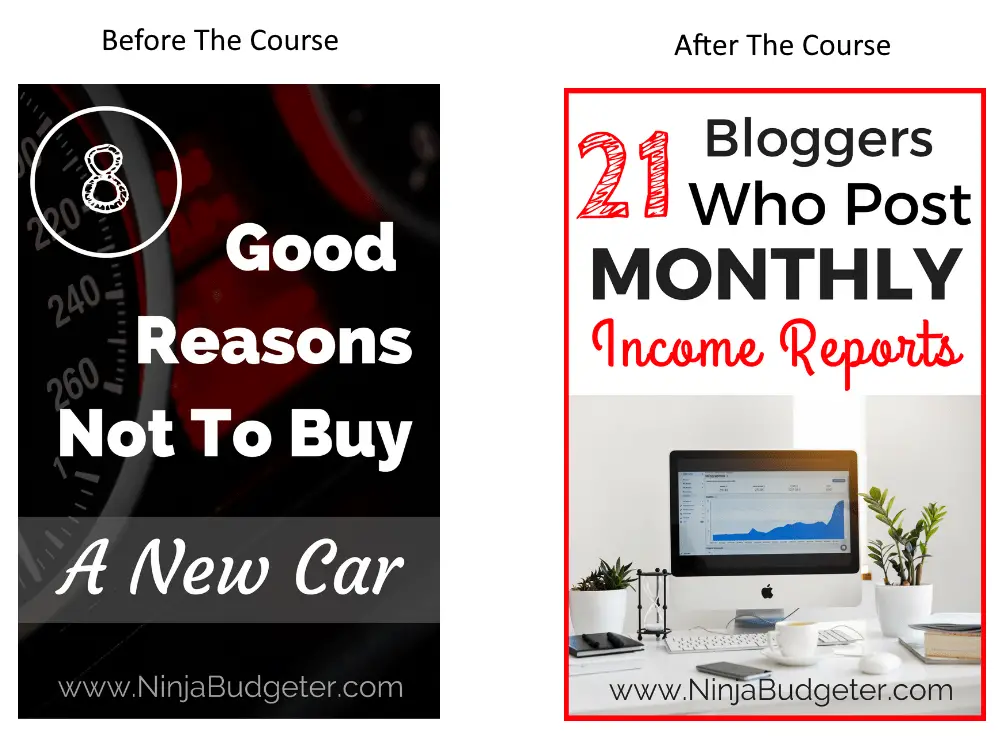 If you want to get serious about Pinterest traffic, you should definitely consider taking The Perfect Pin course. It's an affordable alternative to some of the other stuff out there that sells for hundreds of dollars. It's a great price and a good fit for anybody that's just starting to get their feet wet with Pinterest.
So now we've established that my site is growing. I want to have a look at what I think I'm doing well, and what I can improve upon.
What went well last month
Growing Pinterest traffic
As I covered above, Pinterest is going really well last month. To everybody out there that thinks Pinterest is dead (I'm talking to you Pete McPherson), it's far from it. It does however, take a ton of work. Having the right tools for the job has made a huge difference. If you want to boost your Pinterest traffic I'd recommend purchasing both Tailwind and The Perfect Pin.
Twitter
I have grown my Twitter following to just over 5600 and have stopped putting much effort into growing my following for the time being. The traffic I get from Twitter consumes much more of my time than other sources.
Twitter has been the best place for engagement however. I've been posting a lot of questions and getting quite a bit of response. 95% of the other bloggers I know I have met through Twitter somehow. Even though it's not a huge traffic driver I still believe that it's a worthy place to spend time. The relationships that I've built on Twitter have opened up some awesome opportunities for me.
Writing
I think I've hit a stride when it comes to creating content and marketing my site. I'm spending 1-2 hours per day on the blog and that's just right for me. I've been waking up early a few days per week and hitting a nearby Starbucks to do some work. I'm definitely more productive in the mornings.
Old content on my site is something else that I've been working on. I have a few early articles that don't flow as well as my newer stuff. Some of them I am straight up deleting, and others are getting an SEO and readability overhaul.
What went not-so well last month
Obsessively checking site stats
Hi, my name is Mike and I'm a dataholic.
Everybody say 'Hi Mike'
No seriously, this needs to change. I've found myself checking my traffic way too often and at completely inappropriate times. Before breakfast, at work, before bed…it's a problem. I think I've got a better handle on it in the last week but I'd love to know how you deal with this.
Does anybody else even have this problem?
SEO
It's amusing that SEO is a big part of my day job but I've had a tough time focussing on it when writing for my blog. I don't really know why but it probably has something to do with the fact that I get burnt out from too much SEO. Sometimes I just want to write on here without fussing over keywords and all that.
I know however, that if I'm going to build this into the business I know it can be, that SEO needs to be a major component of that. Pinterest traffic is fantastic, but the more diversified my traffic sources are, the better off I will be in the long-term.
Of my 40+ articles I have a whopping two that rank in Google. I know that it's pretty normal to have a small number of articles bring in the lion's share of search traffic but I know I can do better.
Moving forward SEO is going to be a major consideration when producing content.
Email subscribers
At this time, I have fewer than 100 email subscribers. Probably half of my subs were acquired when I announced my $100 challenge late last year.
In an effort to boost my conversion rate to my email list, I started offering an awesome freebie last month. Amusingly, my subscribers actually declined from that point forward.
Obviously, my offer is not resonating with my audience and I'm going to need to change course.
Making money
It's time for me to get serious about earning some money from this business. You might have noticed that there are a few ads around the site now. Against the advice of a few of my peers, I have decided to make this site ad-supported.
Why ads?
There are two reasons I have chosen to put tasteful and well placed ads on this site. First, almost all of the major players in this space have ad revenue as a component of their business. Second, I'm comfortable with it. I have used ads on past websites and know how it all works. I've had Adsense payouts in the past and I know that I can earn enough to pay my hosting without upsetting my readers.
There is more on the horizon in terms of revenue…more on that below.
The $100 Challenge
Some of you might remember back in October that I announced my $100 challenge. I wanted to see if I could earn $100 blogging by following the advice found in this article.
I got started with affiliate marketing through November and December but at some point I realized that my traffic numbers were awful and I needed to address that before I would ever earn any affiliate income.
Long story short – I have achieved my $100 goal…kind of.
This happened in February so I won't talk too much about it here but I did manage to make $100 with my blog this month. It was not through affiliate marketing however.
That's all I'm going to say for now but keep an eye out for February's report where I'll cover this in greater detail.
Focus moving forward
In (what remains of) February and moving forward, I'm going to be working primarily on two things:
Networking
I've met some really cool people and had some good opportunities come my way just by networking with other bloggers. I want to continue to connect with other site owners and help them out in any way I can.
To that end, I'm in the early stages of putting together a mastermind group. I've never been in one before so this is new territory for me but I think it's going to really push us forward. I've selected a couple of other family-oriented personal finance bloggers to invite to join me.
If this is something that you think would be a good fit for you, fire me a message via my contact page and we can talk about it.
Amazing, boss-level awesome content
You've probably heard that saying 'content is king,' well I have learned that it's absolutely true. Sometimes that gets mixed up with 'build it and they will come', which is complete nonsense.
I'm really proud of how my content has changed for the better in the last six months. I'm starting to get a feel for what my audience likes to read, and what they don't.
Here's the thing (I'm about to get real with you)…I think there's too much 'Top Ten Ways To Make More Money' content on the internet.
We all need to make a living, and those types of articles are great for generating revenue. The audience hopefully gets a quick win and the author hopefully gets some affiliate sales. I've written some stuff like that. You can find examples here, here and here.
I think I've been writing too much much of that type of content lately. The thing is, although that is the content that's doing best for me on Pinterest, I want to make sure that I'm balancing that with long-form content that is super-valuable to my core audience.
I'm going to be putting together a content calendar in the next couple of weeks to help me make sure that the content I'm putting out is balanced.
Conclusion
After 14 months of blogging here on NinjaBudgeter, something finally clicked in January. It was a really good month. I more than doubled December's traffic and I'm growing on all fronts.
My small Pinterest success had another effect – it got me even more motivated to keep working on this business and providing as much value as I possibly can to my readers.
Naturally, not every month is going to be this great, but for now it's helped motivate me and push me forward.
That's all I've got for now. If you have minute, I'd like to hear about your recent wins.
What's been working well for your on your blog?