This post may contain affiliate links. Please check out my disclaimer for more information.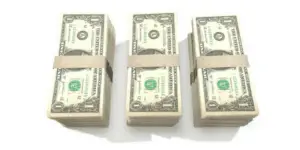 Who doesn't want to finish the year with more money in their pockets? Fortunately, there are thousands of simple ways for you to make extra money in 2018. Below I've put together my top list of 13 ways that you can make an extra $2000 in 2018. None of these things opportunities requires a massive life change. In fact, most can be done from home.
Are you ready to make 2018 your best financial year yet?
13 Ways To Make Extra Money In 2018
Reselling/Upcycling
This is a business that's near and dear to my heart as I made more than $10,000 by reselling appliances on Craigslist. There's always going to be a demand for affordable, used appliances.
All you need to do is find some leverage. If you can add value to an item with paint, repair or upgrade, you can resell for more money. It's also possible to resell for a profit by using a different channel. Buying locally and selling on EBay or Amazon is popular as well.
Here are some other ideas for items to buy and resell:
Furninture

Laptops
Cell Phones
Vehicles
ATVs, Dirtbikes or Snowmobiles
Sporting equipment
Instruments
I think that buying and selling appliances is the best way to make money fast. Want to learn how? Check out Tradeskills. It's run by Ryan Finlay, the guy that I learned from. At Tradeskills, you will learn everything you need to know to get an appliance business off the ground by this time tomorrow.
Ask for a raise at work
Most of us work around 2000 hours per year. This means that if you want to make $2000 more in 2018, you need to raise your wage by about one dollar per hour. A dollar per hour is a very reasonable raise for a good employee.
The sad thing is, many employers won't just offer a raise to their good employees, you will probably need to ask for it. Fortune favors the bold though right?
Here are some tips to give you the best chance of getting the raise you want in 2018.
Ask for a raise at the end of a good business day, or better, a good week

Be prepared to make a case for why you deserve a raise
Research what others are making in your field
Don't threaten to leave unless you have another offer pending
Find A New Job
So maybe the last tip didn't work. Here's the thing, you can always find a new job with an employer who sees your value. You don't have to let your current boss know that you're looking and even a $1 per hour raise can increase your quality of life considerably.
Make sure you think hard on this one as it's a really hard decision to take back. Make sure that your new employer treats their staff well.
If you're not using Swagbucks, you're missing out on the easiest money you've ever made.
Swagbucks pays their user for searching the web, watching videos and taking surveys as well as other tasks. Signing up only takes a few seconds and you can start earning. Why not give it a try today?
Start Freelancing
Have you ever considered freelancing in your spare time? Websites like Upwork make freelancing much easier by connecting potential freelancers with paying jobs.
There are so many ways that you can make money freelancing. I can't cover them all here, but here are a few ideas to get you started.
Editing

Writing
Proofreading
Graphic Design
Marketing
Social Media Management
Drive With Uber
You've heard of Uber, but have you thought about signing up as a driver? Uber is one of the best hustling opportunities to come around in a long time.
The requirements are simple, here's what you need to get started:
Must be at least 21 years of age

A registered and insured, 4-door vehicle
A valid driver's license
A smartphone
Put Your Truck To Work
Everybody needs a truck sometimes, and not everybody has one. If you're among the elite truck-owning few in your town, why not offer it for hire? You can charge anywhere from $30-$60 per hour for one man and a truck.
This is actually something I used to do. Back in 2008, I picked up odd-jobs to make the payments on my brand new Ford Ranger.
Some great gigs you can pick up include dump runs, furniture moving and garden material delivery/disposal. 
Start An Online Business
The great thing about online business is that it's incredibly low-cost to get started in most cases. There are literally hundreds of different types of online businesses. Below I have listed a few that you might want to consider:
Online retailer

Start a blogging business
Membership Site
Sell software
Create mobile apps
None of these things are easy to make profitable. No matter what type of online business you start it's going to take a lot of work to get it off the ground.
That said, if you've got the hustle there's really no limit to what you can earn.
Take Surveys
You've probably heard of people taking surveys online. You might have wondered if it's a legit way to make extra money – it is. There are many reputable companies that offer surveys for cash. It's a great way to make money from home while you watch TV!
If you're interested in making money taking surveys check out SurveyJunkie.
Find A Craft That You Can Create And Sell
This is huge right now. I've noticed that many of our friends have 6-foot-tall rulers in their homes. They look nice, and they're great for keeping track of how tall your kids are. There are several people selling these in our local area. They're fairly simple to make and sell fro around $50!
Another example is leatherwork. My wife bought me a belt for Christmas off of Etsy. It was handmade by somebody who runs a small leatherworking business out of their home. It was around $40 and although I don't know exactly how long it takes to make a belt, I'd imagine you can batch the work and produce several per day.
Make Money By Selling Your Stuff Online
You know that antique snow globe you've been looking at for years? What about your old power drill? There's somebody out there who wants that stuff.
Maximize your profits by knowing how much an item is selling for on different sites. Check similar listings on Craigslist, Kijiji and sold listings on EBay.
Start A Blog
Want to play the long game? Maybe a blogging business is for you. There is no quick money to be made in blogging but if you're down for a challenge and want to build something that can produce income for years to come, blogging might be for you.
Learn how to start your own blog here.
Love To Teach? Make Extra Money In 2018 With Udemy
Udemy is an online platform where teachers develop courses that are available for sale. You can teach almost anything with Udemy and the great thing is, they have a huge network of students there already.
If you take the time to create amazing high quality courses, you can create an income stream for years to come.
Another great thing is that you own your material, and can offer it on other sites well. Some other site you might want to consider include:
There are literally thousands of awesome side hustle ideas to help you make more money in 2018. These are just a few of my favorites.
Question for you:
How are you going to start hustling and make extra money in 2018?