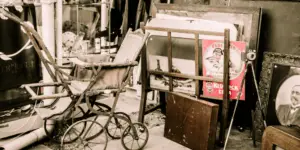 Today I want to talk to you about what is, in my opinion, the best side hustle out there – a buy and sell business or 'flipping' things for profit.

When I say 'flipping' you might think of flipping houses or cars but that's not what I'm talking about here. I'm talking about one-off, unique and interesting items. 
What if I told you that it's possible to make a full time income flipping stuff that you find at flea markets, yard sales and thrift shops?
Not only is it possible, it's how Rob and Melissa of Flea Market Flipper make their full time income. In fact, they made more than $133,000 in 2016 selling stuff that they bought from flea markets, thrift shops and yard sales.
Keep ReadingHow One Couple Makes Thousands Buying And Selling Used Stuff