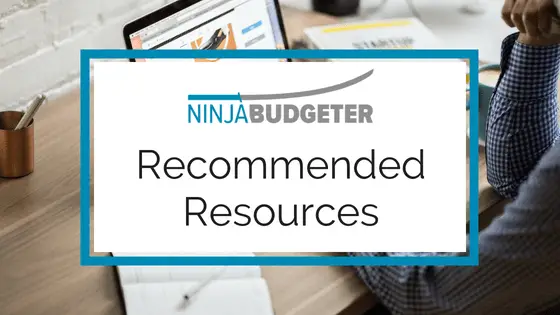 Welcome to my resources page. Readers often come to this site looking for solid recommendations for how they can start a website or online business, pay down debt and make more money. Below is a list of financial and blogging resources that I personally recommend. If you're looking to track your wealth, pay down some debt or make extra money, you're in the right place!
Please be advised that some of the links on this page are affiliate links. This means that if you purchase a product through a link, I may receive a commission at no extra cost to you.
Start A Blog
Do you want to start a blogging side hustle? (Warning – it's a tough way to make money!) Or maybe you're starting a diferent type of business. Either way, you should have a website. A good website is a must for any legitimate business these days. Fortunately, using the tools found below, you can have a site up and running in just a few minutes!
Blogging Platform
WordPress.org – WordPress is the O.G. of blogging platforms. It's been around forever, it's versatile, and it's what 99% of professional bloggers use. There are other platforms out there, but for the sake of simplicity, I highly recommend that you use WordPress.org. With WordPress.org, you will need a hosting plan, fortunately, it's only $3.95/month.
There are also a couple of free options, but you will be limited in what you can accomplish with a free site.
WordPress.com – A completely free hosted blogging platform. Your free domain name will have .wordpress.com at the end unless you pay to upgrade your domain name. Customization and monetization options will be more limited.
Blogger.com – Also completely free and hosted. The same applies with the domain – it will be [yourchoice].blogger.com.
Hosting
If you want to have complete control over your site or if you're building a blogging business or ecommerce store, you're going to want to be self-hosted. Hostinger is a budget hosting service that I use for this site, which i found to be the most inexpensive option when you're starting out. If you sign up for Hostinger using this link, it helps support this site and plans start as low as $0.99/month. The best thing about Hostinger is they offer a 1-click WordPress install at no extra cost. You can be blogging in minutes. Alternatively, I've heard good things about digital ocean, though they are a bit more expensive and I have never used them myself.
Get started with Hostinger today for only $0.99/month!
 Theme
A theme is the part of a website that you actually see. The layout, colors and font are all part of the theme. The best themes are affordable, well-coded and highly customizable. I highly recommend GeneratePress. It's what this site runs on; it's smooth, powerful and highly customizable. Better yet, it's only $39.95/year.
Get the GeneratePress theme now
Getting Traffic To Your Site
So you've got a brand new website and…crickets. It's not fun creating content for nobody. You need a strategy to drive traffic to your new site. That's where Pinterest marketing comes in. More than half of the traffic that comes to this site comes through Pinterest. Don't worry, it's not complicated, and the tools below will help you get started fast.
The Perfect Pin – This course by the guys over at Breaking The One Percent will show you how to create viral Pinterest images. Even if you have no design experience (like me), the strategies in this course will show you how to create beautiful pins to help drive traffic to your new site.
Take The Perfect Pin Course Today
Tailwind – Tailwind is a scheduling app for Pins. With Tailwind, you can preschedule all of your pins to save you time. It also gives you access to important metrics that help you understand which pins perform well, which group boards perform well and help you direct your efforts accordingly.
Making Extra Money
Rev.com – If you're looking for a way to make extra money from home, becoming a transcriptionist for Rev is a good place to start. Your earning potential will be somewhat limited but as they pay in USD, it's particularly good for Canadians. Once you get some experience with Rev you can move on to higher-paying transcription jobs.
Flipper University – Need to make a lot of money fast? Consider starting a flipping business. I made $10,000 flipping appliances and think that flipping is the best way for anybody to make good money. Check out Flipper University and start making money with a flipping business today.
Paying Off Debt
Student Loans
LendEDU – LendEDU is a lending platform where lenders can offer you better rates for your loans to help you pay them down faster. You will be asked a series of questions and based on your answers, LendEDU can connect you with lenders who can better serve your needs. All without impacting your credit.
This post – I wrote a post a while back on ways to pay down debt and it's as relevant today as it was then. Some common sense strategies mixed with some hustle will get your debt paid down in no time.