This post may contain affiliate links. Please check out my 
disclaimer
 for more information.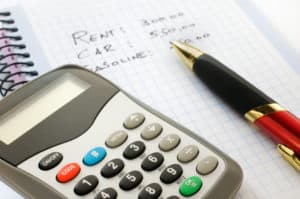 January is legit' my favorite month of the year.
For me it's a time full of potential and reflection. I really enjoy making new goals and taking stock of what I did and didn't accomplish the previous year. 
I usually try to use the opportunity to reflect on my shortcomings and think about how I can achieve more this year.
Making New Year's resolutions is easy, but keeping them, that can be really, really hard. Only around 8% of people actually achieve their New Year's resolutions. Frankly, the odds are against you.
Of all resolutions, improving your finances can be one of the hardest to keep. This is especially true if you're starting the year off with debt.
2019 can be the year that you keep your resolution to get out of debt for good. It's not going to be easy though. Are you up for it?
9 Ways To Pay Off Debt In 2020
Stop Spending Money
If you really want to get out of debt in 2020, you've got to stop digging. If spending too much money is a problem for you, consider getting some help. Lean on a friend or family member for accountability if you need to. Cut up your credit card or freeze it in a block of ice.
Whatever you need to do, do it. Becoming debt free is about paying off your debt, but it's also about addressing the spending habits that got you to where you are in the first place.
Have A Strategy
There are lots of different strategies for paying off debt. Some like to pay off the debt with the highest interest rate first. Others like the snowball method where you pay off your debts smallest to largest, building momentum as you go. Maybe you just want to pay off a car loan first. Honestly, once you're committed to get out of debt, it doesn't matter.

What matters is that you have a strategy.
Plan it out, track your progress. Learn how to use Google Sheets or Microsoft Excel to track your progress. Just have a plan and check in at intervals to see how you're doing.

What gets measured, gets managed. If you want to get out of debt this year, get on a plan and stick to it.
LendEDU
Are your student loans weighing you down? You should check out LendEDU. LendEDU is a free tool that you can use to get a better rate on your loans. Basically, lenders compete for your business.
Basically, you sign up for free, enter your info and LendEDU will compare your current student loan rates against rates available from other lenders. Again, this tool is completely free and you could potentially save hundreds of dollars per month.
Cut Your Grocery Budget
One of the greatest strains on any budget is food. It's flipping expensive and to make matters worse, we're throwing a bunch of it away. Below are some tips to help you start saving money on your food budget in 2020.
Plan your meals weekly or monthly – this saves you money by ensuring that you're buying the correct amount of the right food and wasting less.

Invest in a deep-freezer – buy more food when it's on sale and store it.

Plan the majority of your meals around cheap staples like lentils and beans

Start using coupons – some great advice on couponing can be found here.

Separate large items – when we buy large boxes of things from Costco, we separate them into the number of weeks that we need the item to last. If the kids eat all of the snacks by Tuesday one week, too bad. The next batch doesn't come out until the weekend.
Sell Your Financed Vehicle
Most of us are carrying some amount of vehicle debt. If you're serious about getting out of debt in 2019 you might want to consider offloading your car payment.
Vehicle debt can make or break any budget. In 2016, the average monthly car payment was $493. Having $500 more in your pocket every month could completely turn your financial situation around in a year.
Refinance High-Interest Credit Card Debt
Make More Frequent Payments
I read this tip on a blog a couple of years ago and it has had a huge impact on how quickly our family has paid off debt.
Getting in the habit of making payments on your debt can net you big gains over the course of a year. When we are hammering down debt I make our payments weekly and sometimes I put extra money on the loan daily.
Have an extra $10 left over from something? Throw it against the loan. Build that habit and you'll start to see your balances drop more quickly than you thought possible.
Make Some Extra Money
Why not try to make more money in 2020? If you can find a way to earn an extra $100 per month to put towards your debt, that's $1200 more you can pay off this year.
Here are some great ways to make extra money:
Ask for a raise at work

Sell some stuff on eBay or Craigslist

Get a second part-time job

Find some extra money in your budget by eliminating expenses
Check out this article for more ways to make extra money.
Related Post – 9 Side Hustles That Have Made Me Money
Apply Lump Sums to Debt
Most of us have some extra cash come our way throughout the year. Some potential sources of lump-sums of cash are:
A regular or performance-based bonus

Tax returns

A gift

Selling something valuable such as an antique, a vehicle or a piece of property
Rather than using that money to buy something new, consider using it to pay down your debt. You'll find that your debts disappear rapidly when you're putting lump-sums against the balances.
Consolidate Your Debt
Sometimes the first step to paying down debt is to make your debt more manageable. I admit that when I was looking at 4 different negative balances, I found it overwhelming sometimes. It can be a challenge to make sure that you're making the correct payments on a bunch of different accounts.
Consolidating your debt can simplify your situation by putting all of your debt in one place, often at a lower interest rate than you were paying before. If you want to consolidate your balances, the best place to start is by meeting with your banker and explaining your situation.
They may require that you close your other accounts in order to grant you a consolidation loan. This can actually be a good thing as it forces you to remove the possibility of more debt.
Now it's your turn. What are you going to do to pay off debt this year?
Want to save more money? Join my email list and get my guide to cutting your budget.

Latest posts by Mike Greig
(see all)