This post may contain affiliate links. Please check out my 
disclaimer
 for more information.
Table of Contents
If you're considering switching to an online bank in 2020, then Tangerine should be on your short list. Originally founded under the name 'ING Direct' in 1997, the bank was acquired by Scotiabank in 2012 and subsequently changed the name to Tangerine. Personally, I like the new name better.
Tangerine offers a variety of easy-to-use banking services with the promise of high-interest savings, and no-fee checking accounts. With an easy to use app and website, Tangerine stands out as one of the best choices for online banking in Canada for 2020.
Sign up for Tangerine today using my Orange Key – 16865230S1, make an eligible deposit of $250 within 60 days and get $50 for free!
Online banking vs. traditional banking
As you might have guessed, being an online bank, your entire Tangerine banking experience will be either through their website or app, or on the phone. Tangerine does actually have five physical locations. They call them 'cafes'. There are two in Toronto and one in Montreal, Calgary and Vancouver.
I haven't been to one of their physical locations and can't comment on the experience. That said, there are so few of them that for most of us, Tangerine will be an online-only experience.
When using an online bank, you're going to give up a few of the conveniences associated with a traditional banking experience. That said, I have always done most of my banking via internet or apps so I didn't find that this bothered me much.
Tangerine also offers some modern features that help make up for the lack of a physical branch. One of the cleanest apps I've ever used, as well as Google Pay, Apple Pay and Samsung Pay definitely kick the experience up a notch.
---
Pros and cons of online banking
Pros
No-fee checking accounts
Higher interest rates on savings accounts
Free ATM access (Tangerine users can do their banking at any Scotiabank ATM) the experience.
Cons
No in-person service (unless you happen to live near one of Tangerine's 'cafes'
Fewer chequing account options
Can be difficult to deposit/withdrawl cash
Are online bank accounts worth it?
In my opinion, absolutely. Even if you're not ready to give up traditional banking, having an account with a bank such as Tangerine can be a great way to earn higher interest rates on your savings or emergency fund accounts while avoiding more checking account fees.
It also can provide some peace of mind to have access to a bank if your main bank is having technical issues.
For higher returns consider checking out: An Introduction to the 3 Fund Portfolio
---
Tangerine Account Options
Tangerine offers a good selection of bank accounts to meet almost anybody's needs.
No-Fee Chequing Account
Straight up, Tangerine's chequing account is better than anything you will find from a traditional bank. Take it from a guy who uses both. Tangerine's checking account has no transaction fees, which can save you more than $100 annually if you're moving over from one of the big banks.
Key Features
No fees for daily banking (deposits, withdrawls, transfers and bill payments
Free interac E-transfers
First cheque book is free
0.15-0.65% interest rate calculated daily (rate depends on balance)
Overdraft protection available
---
Savings Account
This is Tangerine's standard savings account. While it's a good offering, it doesn't stand out from the pack quite the way that their chequing account does. While the interest rate, at 0.7% is better than you would do at some traditional banks, I think they're a little off-base calling it a 'high-interest' rate.
That said, it's a good place to store cash that you would otherwise keep in a lower-interest account or in your mattress. This account is ideal for separating your money into spending 'buckets' or storing your money for bills or an emergency fund.
Key Features
0.7% Interest rate with a $0 minimum balance
$0 Monthly fee
Free unlimited transfers to other Tangerine accounts
Cash Back Credit Card
Tangerine's Money Back Credit Card is one of the best cash back cards available on the market right now. It offers 2% cash back on two categories of your choosing (we went with gas and groceries of course), as well as a third category if you have your cash back deposited into your Tangerine savings account. All other purchases offer 1% cash back.
I would expect a card with such a good reward to come with an annual fee, but the Tangerine Money Back Mastercard costs $0 annually.
Key Features
2% Cash back on purchases in two categories of your choosing
A third 2% category is added if you have your rewards deposited into your Tangerine savings account
$0 annual fee
Unlimited money back
1.95% Balance transfers for six months
This card offers a combination of features that can't be found anywhere else. We now use it almost exclusively.
---
Other Financial Products Offered by Tangerine
While the chequing and savings accounts combined with the Tangerine Mastercard will meet the needs of many customers, they also offer several other financial products including (but not limited to):
Tax free savings account
RSP savings account
USD savings account
Home both secured and unsecured lines of credit
Mortgages
---
How To Open A Tangerine Account
Signing up for a Tangerine account is simple. All you have to do is go to their website at Tangerine.ca and click the 'Sign Me Up' button on the top right hand side of the screen.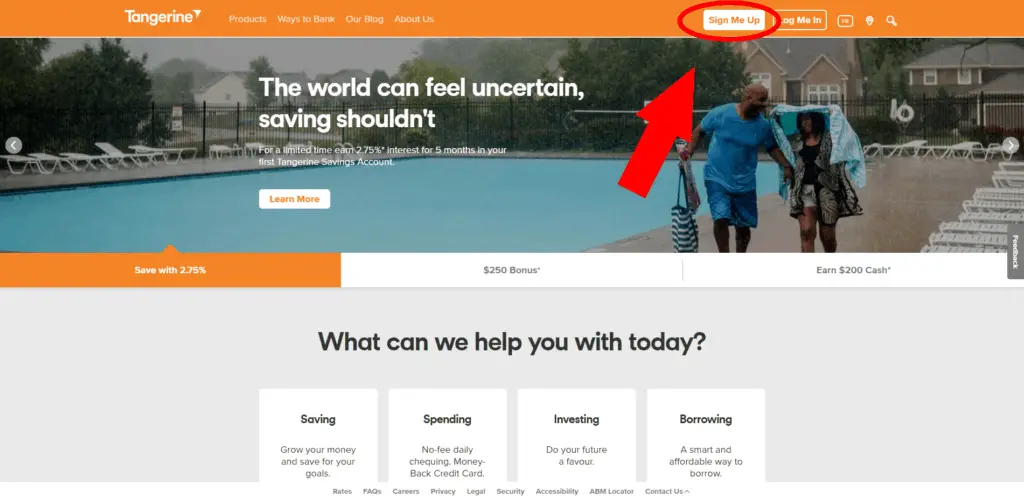 From there, all you will need is your Social Insurance Number as well as some personal and employment information, and you're good to go. Signing up only takes a few minutes.
Tangerine User Experience
We recently changed banks, and the primary reason was that the user experience on the website and app of the bank we were with was awful. Not the case with Tangerine. No matter how you interact with your accounts, the interface is clean and simple to use.
Website
Tangerine's website is a clean combination of orange, white and black with key information laid out plainly for the user. When you login, you're greeted with your overview screen which shows what you have, what you owe, and an overview of all of your accounts.

Frankly, coming from a different bank that did not value user experience at all, I find that Tangerine's website is a pleasure to use. Their clean design is easy on the eyes and I haven't yet had trouble finding something that I wanted.
App
Many of us do the majority of our banking on our phones nowadays, so the app experience is crucial. In this regard, Tangerine doesn't disappoint. The app offers the same clean layout and user experience as the website. I actually find it a little bit nicer to use than the online version, but that's just my preference.



When the app is first opened, you're presented with your overview screen with basic information such as how much money you have, and how much money you owe. Along the bottom, there is a red alert bar with information that requires your attention.
All transactions are accessible from the orange + button at the bottom of the screen. Click the button and you are presented with your options: Deposit, Move Money, Pay Bills and Email Money.
Unlike several of their competitors, they do not offer biometric login to their app. This seems like a glaring omission in 2020, a time when pretty much every new device has a fingerprint reader. I'm hoping that they add this in the future.
Overall, I don't think that you will be disappointed with the app experience. It's clean and well-designed.
Having trouble saving any money to put into your Tangerine account?
Check out: How to Embrace Frugal Living
---
Tangerine Customer Service
I have had several experiences with Tangerine's customer service. The first was when I tried to sign up. The site wouldn't allow me to open a new account. I couldn't understand why so I phoned their customer service line.
They were able to quickly resolve my issue. It turns out that I had opened an ING Direct account back in 2006 and forgotten all about it. As ING Direct became Tangerine, the account moved over and still existed. After answering a few questions, they got me sorted out quick.
The second time was just to ask about getting a second credit card on our account. Again, the person on the other end was easy to deal with, helpful and spoke clear English.
That said, both times I called, the online chat option was not available and the wait times for a rep were upwards of 10 minutes. Not horrible, but not exceptional by any means. They could definitely work on their wait times. That said, my issues were resolved and that's the most important thing in my opinion.
It's also worth mentioning that Tangerine does not offer a call-back option, which is a real problem for me. I don't want to sit and listen to their hold music. A call-back system that allowed me to go on with my day would definitely earn them a couple of extra points with me.
---
Final Word
Overall, I think that Tangerine offers a fantastic product. If you're sick of paying account fees, and your banking needs don't often bring you into the branch, Tangerine is probably a good option for you. You will, however, find the experience much smoother if you live close to a Scotiabank branch to access an ATM machine.
What I Like About Tangerine
No chequing account fees
Decent savings account interest rate
2% cash back credit card
Google Pay, Apple Pay and Samsung Pay compatible
What I Don't Like About Tangerine
Long wait times for customer service
No biometric login for app (come on guys, it's 2020…)
E-transfers are consistently slow
Who Should Use Tangerine?
You should consider Tangerine if your banking needs are modest and you do most of your banking via an app or online. If you live near a Scotiabank branch, the experience will be much nicer as you will have easy access to ATMs for withdrawls and cash deposits.
Even if you don't use Tangerine as your primary bank (I don't), it's worth setting up an account to get their 2% cash back Mastercard and for the free accounts.
Want to earn $50 for free?
Sign up for Tangerine today using my Orange Key – 16865230S1, make an eligible deposit of $250 within 60 days and get $50 for free!
My Tangerine Rating:


 4.5/5

Latest posts by Mike Greig
(see all)