This post may contain affiliate links. Please check out my 
disclaimer
 for more information.
If saving more money is on your to-do list for 2020, you should consider opening a high interest savings account with EQ Bank. With an established reputation, and one of the highest interest rates available, EQ Bank is a solid option to grow your savings.
What is EQ Bank?
If you're like me, you may never have heard of EQ bank before. EQ Bank is brought to you by Equitable Bank, a federally regulated Schedule I Bank with over 900 employees and total assets under management of approximately $33 billion.
Equitable Bank was founded in 1970 as The Equitable Trust Company. It is a wholly owned subsidiary of Equitable Group Inc., whose common and preferred shares are traded on the Toronto Stock Exchange under the symbols EQB and EQB.PR.C, respectively.
In other words, EQ bank is legit, and as you're going to read, it's a great option for Canadians looking for a high-interest account to grow their savings.
Sign up for an EQ Bank Savings Plus Account.
Online Banking vs. Traditional Banking
The EQ banking experience is definitely different than what most of us are used to. As an online-only bank, going to a branch is not an option because, well, they don't have any. Their slogan is "We'd rather build your savings than bank branches" is right on their homepage, and they make good on that with one of the highest savings account interest rates available today.
Having no access to a physical branch could potentially be a hassle, or it could not bother you at all. That really depends on how you do your banking now. For me, I rarely visit my branch (as it's quite far from my home) so I do most of my banking online or through an app as it is. If you're like me in that regard, you'll find using EQ Bank to be a fairly simple experience.
Related post – Tangerine Online Bank Review
Online Banking
No-fee accounts
No access to a physical branch
All banking done through app or website
Money deposited via Interac e-Transfers® or mobile cheque deposit
Higher interest rates
Customer service via phone, chat or email
Traditional Banking
Fees charged for most accounts
Physical branches
Banking can be done in-branch, via ATM machine, online or in app
Low interest rates for savings accounts
Customer service in-person or via phone
Is EQ Bank Safe?
In a word, yes. While some people may be concerned about EQ Bank being an online-only entity, you can rest assured that your funds are safe.
Deposits made in Canadian funds are protected by deposit insurance up to $100,000. This protection is automatic. You do not need to apply or do anything to be covered.
Account Options
While EQ Bank offers fewer accounts than some of their competitors, they make up for that by having one of the best high-interest savings accounts out there.
EQ Bank Savings Plus Account
EQ Bank's Savings Plus account is their signature product. With an almost unheard of 2.00% everyday interest rate*, you can park your savings here and let it grow while maintaining access to your funds.
While this is a savings account, in many ways, you are able to use it as a chequing account. You can pay your bills, move money back and forth to other accounts courtesy of their free Interac e-Transfers® as well as deposit cheques directly to the account through the app.
Benefits of the EQ Bank Savings Plus Account
Zero Everyday Banking Fees
2.00% everyday interest rate*
Free Interac e-Transfers®
No minimum balances
Free bill payments
Cheap international money transfers
*Interest is calculated daily on the total closing balance and paid monthly. Rates are per annum and subject to change without notice.
GIC Investment Account
EQ Bank also offers a GIC account with a variety of terms and competitive interest rates. To open a EQ Bank GIC, you must first open an EQ Bank Savings Plus Account. Right now, you can get a 3-month GIC rate of 2.45%. That's a great deal for such a short period. At that rate, it's a good idea to park any funds that you have kicking around into an EQ Bank GIC. 3 months is a really short time frame and you will have access to your money again in months, not years.
For a higher ROI: An Introduction to the 3 Fund Portfolio
Benefits of an EQ Bank GIC
Interest rates ranging from 2.10% to 2.55% for a 5-year GIC
Minimum deposit of only $100 makes it more accessible
Flexible options – short term and long term GIC's available at competitive rates
Track your progress via the mobile app
How To Open An EQ Bank Savings Plus Account
Signing up for an EQ Bank Savings Plus Account is simple. All you have to do is CLICK HERE and then click the purple 'Join now' button on the top right hand side of the screen.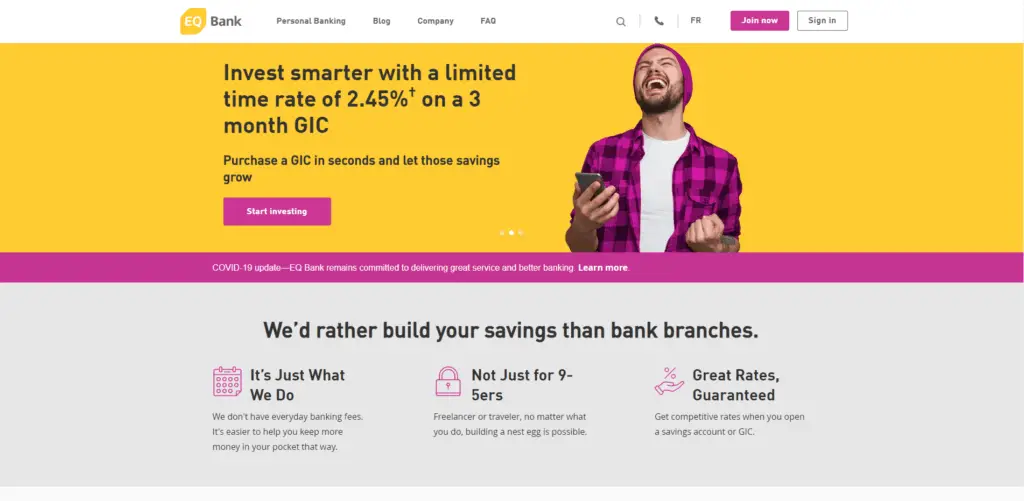 From there, all you will need is your Social Insurance Number as well as some personal and employment information, and you're good to go. Signing up only takes a few minutes.
EQ Bank User Experience
User experience is critically important these days. We recently changed our primary bank (which is no small feat) and one of the main reasons we made the switch is that the user experience on the website and app was awful.
Fortunately, EQ Bank largely hits the mark with regards to user experience.
Website
EQ Bank's website is a nice combination of white, yellow and purple. It's a fairly clean design without much extra clutter and unnecessary information.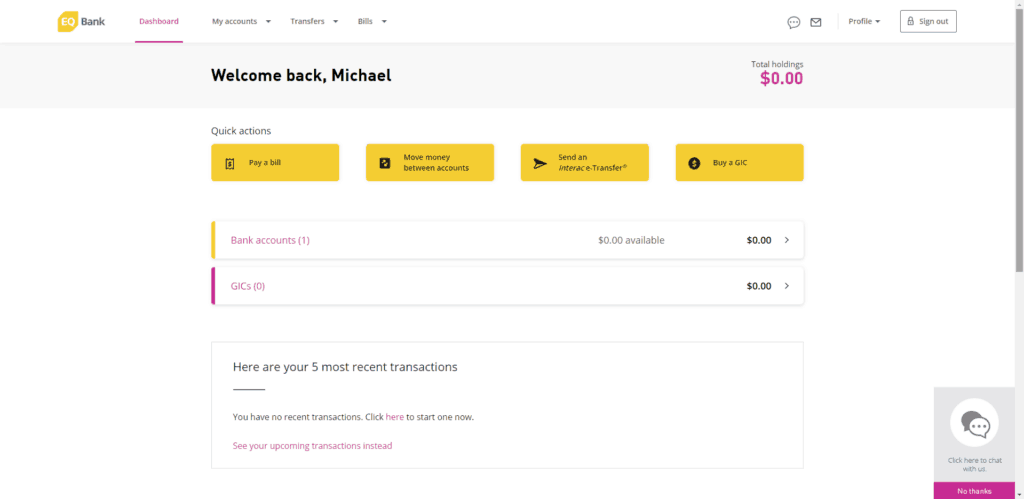 When you log in, you're greeted by your dashboard page, which offers an overview of your accounts and balances. From here there are easy-to-find links to guide you to things such as money transfers, opening a new account, paying a bill or buying a GIC.
You can also access their chat feature to help with questions about your account from the chat icon at the top right.
Mobile App
Many of us do the majority of our banking on our phones nowadays, so the app experience is crucial. In this regard, EQ Bank doesn't disappoint. Like their website, the app is well laid out and offers a nice user experience without any clutter. It's a basic design, but that's part of the appeal, no nonsense.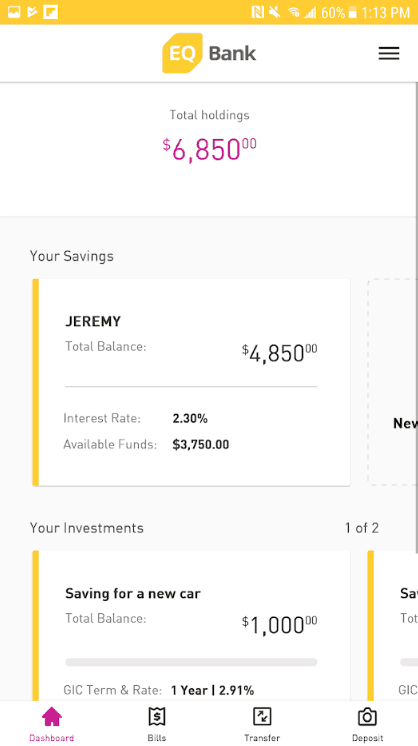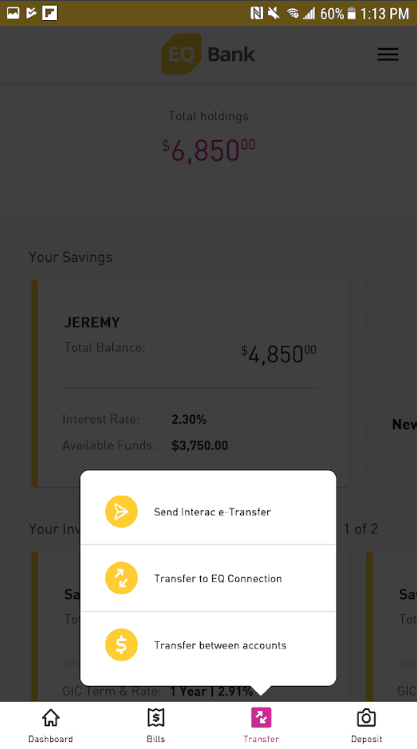 Their app offers some of the modern features that you would expect such as mobile cheque deposits and biometric login. You would think that login via fingerprint is universal by now, but the credit union that we used for 10+ years STILL doesn't have any form of biometric login.
If I had to offer a point of criticism on the app, I would say that the text fonts are a little small for my eyes. I find that I have to hold my device a little bit closer to my face than I typically would, but that's just me, and I didn't find that it took away much from the experience.
EQ Bank Customer Service
EQ bank can be reached by phone, email, or more conveniently, via chat by clicking the chat icon at the top right hand side of your dashboard. I decided to try out the customer service by asking a question regarding how long it takes for them to process a bill payment.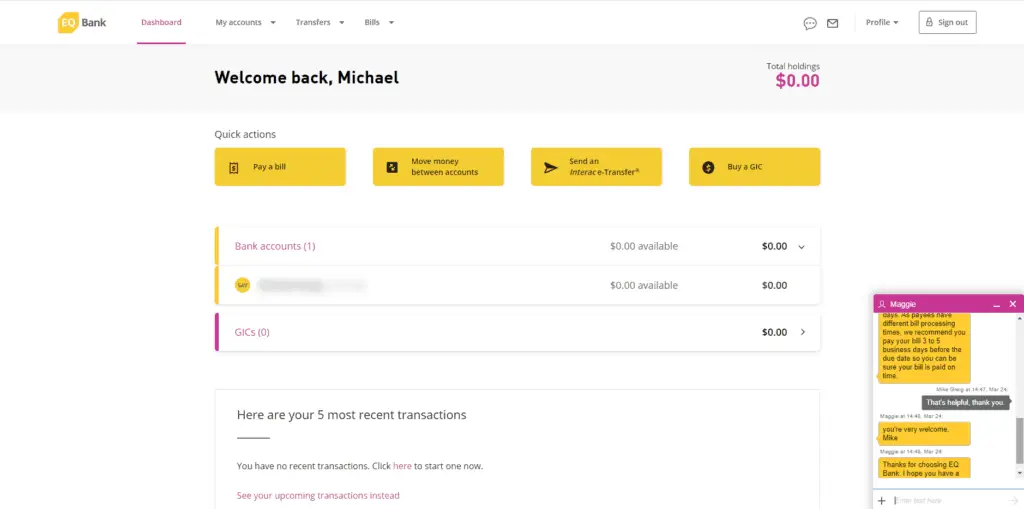 One of their agents responded to me in under a minute with a detailed answer to my question. While I tried out their customer service by phone, I'm really impressed with the response time of their chat agents. Customer service is inherently not as good with an online bank and it's good to know that EQ Bank is on top of things.
Final Word – Is EQ Bank Worth It?
Based on my experience, EQ Bank is absolutely worth using. Their flexible, high interest rate savings account, combined with a variety of GIC options makes them a solid option for earning interest on your money.
Who Should Use EQ Bank?
You should consider signing up with EQ bank if you have some extra money that you want to earn a higher interest rate on, without committing it long-term to a mutual fund or other restrictive investment.
EQ Bank's GICs are a great way to dip your toes into investing with a variety of term/rate options to best suit your needs.
Their high-interest account would be a great place to store your emergency fund, or other savings. There's no point in keeping your money in a traditional savings account earning a fraction of what EQ Bank pays.
I hope that you have found this EQ Bank review helpful!
Sign up for an EQ Bank Savings Plus Account today and get your money working for you.

My Rating of EQ Bank:
4.5/5

Latest posts by Mike Greig
(see all)