This post may contain affiliate links. Please check out my 
disclaimer
 for more information.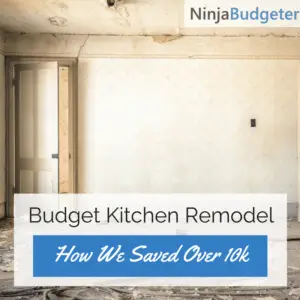 If you read my post from earlier this week, you know that my family did an 'unwelcome' budget kitchen remodel last month due to a leaking dishwasher.
In December, our daughter fell on our open dishwasher lid and broke the machine. I decided to save some cash and buy used – a mistake I will never make again. The used machine that I installed had a slow leak that went undetected for several months until it had completely soaked our subfloor, meaning that we had to completely gut our kitchen.
I had mixed feelings about this. We've wanted to to renovate our kitchen since we bought the place in 2014, but were waiting for the right time financially to pull the trigger.
This was not the right time.
But here I was with a soaking wet floor and I needed to do something about it. All of the lower cabinets needed to be removed to get the floor up and a few of them had been damaged by water and needed replacement. There was no getting around it, I was going to have to completely tear the room apart.
After some discussion with the insurance adjuster, we decided to take a cash settlement and do a cheap kitchen remodel ourselves rather than eat a $2500 deductible and have a remediation company do the work.
In the end, it was worth it, and I'm glad we did what we did. My wife got the new kitchen she wanted (happy wife-happy life right?), and I don't have to deal with it again for many years to come.
Along the way, we learned a lot about how to remodel a kitchen on a budget. It wasn't easy, but we got it done.
A contractor friend of mine told me that a kitchen remodel would cost us at least 20k for his company to do it. We did the whole job for less than $6000, which was amazing given the extent of the damage.
A few key decisions helped us save more than $10,000.
How To Save Money On A Kitchen Renovation
Plan the job
Before we did any work, I sat down with a pen and paper and wrote out a budget. I accounted for materials and estimated high. I budgeted for nearly everything. Pizza and beer for helpful friends, some new tools that I needed to buy, and factored in 10% for unexpected costs.
There's no shortcut on this one. If you want to do a renovation on the cheap, you need to plan. As you're budgeting things out you'll discover just how easy it is to spend a thousand dollars on materials. You'll probably have to make some tough decisions about what matters most to you and cut some parts of the project. We sure did!
Get a professional opinion
If you know a contractor, it's a good idea to have them come in before you start any work and have a look. A licensed contractor can tell you things about your home that you can't see. If there's likely to be asbestos in the walls, which walls are load-bearing, how much certain things cost and where you can cut corners.
We were fortunate enough to have a couple of friends advise us on certain parts of the project. This made things much easier and saved us a couple of costly mistakes. For example a carpenter friend advised me to get some fans and dry the subfloor out rather than cut it out and replace it. Worked just fine and saved me a thousand bucks in plywood and a couple of days work.
Change the scope of the job
Once you've done a budget and talked to a contractor, be willing to change course if needed. We had to make a couple of tough decisions including waiting to floor our lower bathroom. We were committed to our budget and were willing to cut things that would have put us over our expected cost.
Do the demolition yourself
Not only can this save you a lot of money but it can be really fun. No experience is required to remove cabinets and tear up and old floor. We had a crew of friends over for three evenings and got everything ripped out. It was a lot of fun and close friends don't mind being paid in beer and pizza.
A quick caution, make sure to check that your home doesn't contain asbestos before busting apart walls. Asbestos poisoning – ain't nobody got time for that.
Reach out to friends, family and acquaintances
We were surprised how many friends were willing to show up and help us with various parts of the project. There's no shame in asking and you might be pleasantly surprised how many people want to help you out.
Don't get sucked down the premium hole
There's a 'premium' version of pretty much everything. Flooring, faucets, sinks, paint, cabinets etc. There is no limit to what you can pay for a remodel. It's important to prioritize what matters most to you and stick to your guns. I don't feel like I need a 'premium' sink, the $140 sale model holds dishes just fine.
Ikea cabinets
Ikea cabinets are not only cheap, they're really easy to install. This one decision saved us more than $2000. We bought our cabinets from Ikea for a total of just over $4400. This was hard for me as I really believe in supporting local businesses, but I got some quotes, and I just couldn't pay a minimum of $2000 more for cabinets that are functionally the same.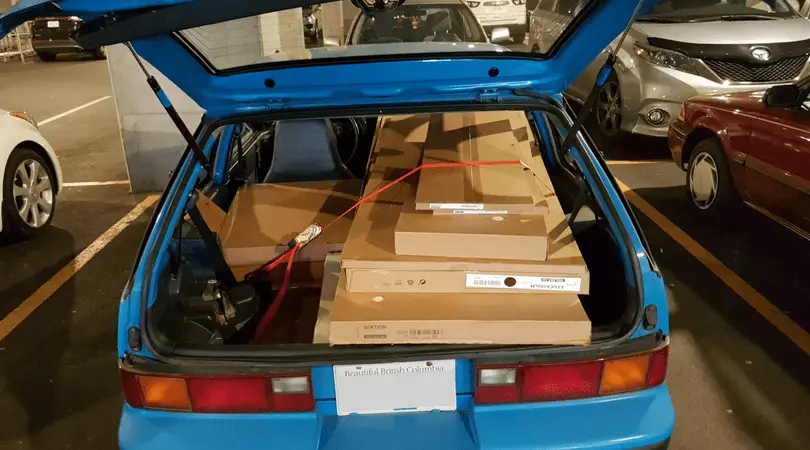 I will say that we had a lot of trouble with Ikea. They messed our order up and I ended up having to go back two additional times, which was a hassle (we live on an island, Ikea is a $150 ferry ride away). In the end, I'd do it the same way next time. The price difference was just too much to ignore. Though I'll be more careful to check over what they're giving me next time!
Know where it makes sense to hire a pro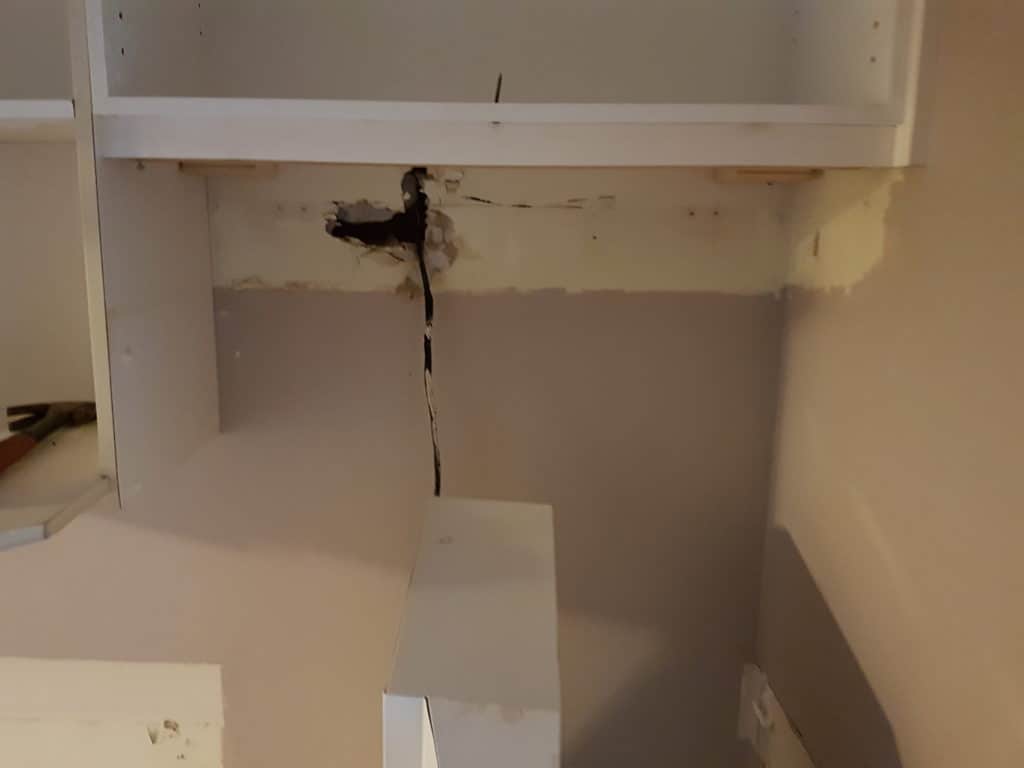 I really wanted to do the entire job myself, but I also didn't want to be electrocuted or deal with leaks again. I hired a professional plumber to install the sink and dishwasher and an electrician to relocate some plugs. This was a significant part of our budget but was well worth it to have the job done right the first time.
Save some things for down the road
We have not upgraded our kitchen light fixture. It's on the list but we just couldn't fit it into the budget. It's a simple things to upgrade down the road when we have a few extra bucks and this way we can keep an eye open for a sale. The same goes for our appliances. As much as we love our almond stove (not at all), we really wanted a nice new set of stainless appliances.
This would have added at least $4000 to the cost of the renovation. We just couldn't justify it at this time. The upside is that we can now keep an eye out for an awesome deal on used appliances or perhaps buy new on Boxing Day. If you're willing to wait you have options and are going to find a better deal.
Buy materials on sale
There's a good deal to be had on anything if you're willing to look. If a faucet isn't on sale at Lowe's, check Home Depot and other places. If you're willing to invest some time, you can save a bunch of cash this way.
We bought our flooring on sale from Lowe's. We got the paint at a discount through a friend who is a professional painter. The sink and faucet were both on sale. I can't think of a single thing that paid full price for except for a couple of tools.
Sell some old materials if possible
You'll be surprised what people will pay money for. Your old counter tops will fit perfectly in somebody's shop. Your old cabinets will be a steal for somebody building a rental suite. If you can salvage stuff as you're removing it it's worth listing everything on Craigslist and getting a few bucks for it.
Borrow tools
I bought most of my basic tools as I will need them in the future. That said, I borrowed a couple of specialty tools that I didn't want to purchase. A compressor and nail gun for installing baseboard trim was a good tool for me to borrow rather than buy. I just couldn't see needed them again in the near future.
Bonus Tips!
Hire labor off of Craigslist
If you need some help and can't count on friends, why not check the 'Labor' section of your local Craigslist site? You can usually find somebody for $15-20 per hour and many of those people have some construction experience.
Naturally, this is going to depend on your tolerance for risk. If you're willing to have somebody you don't know in your house, it can be a great way to give somebody a day of work and get the hep you need with the job.
Buy used materials
Depending on your situation, you might be able to find some of your tools and materials used. Check Craigslist for used materials. Also try the 'Cash and Carry' section of suppliers. Most paint and cabinet shops have returns that can be bought for cheap. If you're willing to compromise on things like color, you can save a ton.
Refinish your old stuff
I've seen many blogs online where a new look has been achieved by simply refinishing old cabinets rather than buying new ones. This is a great way to save cash on your renovation, especially if you have the older solid-wood cabinets. They'll last forever, why not give them a coat of paint?
Conclusion
It's easy to overspend on a renovation, but as my family learned recently, it's also easy to stay on budget. It definitely requires some self-control and prioritizing, but if you can make a plan and stick to it, you can remodel your kitchen on a budget and still have a finished product that you're proud of.
Have you done a cheap renovation? What did you do to save cash? Let me know in the comments!

Latest posts by Mike Greig
(see all)