This post may contain affiliate links. Please check out my disclaimer for more information.
Over the last ten years, I have driven pieces of crap almost exclusively. I've had a few Geo Metros, a Ford Festiva, a scooter and a 30 year old motorcycle to name a few. Naturally, we've always made sure that we have one good vehicle for my wife to drive but couldn't ever justify buying myself something decent for just a brief commute to work.
Why the change of heart
A few months back, I wrote a post entitled 'Why I Drive A $500 Car'. The truth is, I really took some pride in my cost-effective transportation. I like demonstrating that it's completely possible to drive a reliable car for $500. (I actually beat my cheap record last month and bought a driveable car for $40 that I resold two days later for $200!)
That said, something happened last month that made me have a change of heart.
Every year I volunteer as a boat driver with a summer camp in a rural area a hundred miles or so from my home. This year I wanted to take my oldest daughter with me and the only way that we were able to work it out was to bring her up in my car; the beater that our family and friends affectionately referred to as 'Smurf Turd'.
Now I can stomach the risk of driving a car that offers absolutely no safety features beyond a seatbelt. When one of my kids is riding along however, it's a different story.
The highway that i needed to take to get up to the camp is known to be dangerous and I was really uncomfortable driving my kid in something that is little more than a Pepsi can with wheels.
Now that our children are getting older, I'm having to do more of the picking up and dropping off and I felt that it was time to invest in a safer vehicle.
The New Whip
I bought a 2007 Honda Civic. Though I love the car, I've always thought this particular model is kind of a goofy-looking car. Thus, I've named it 'Honderp'.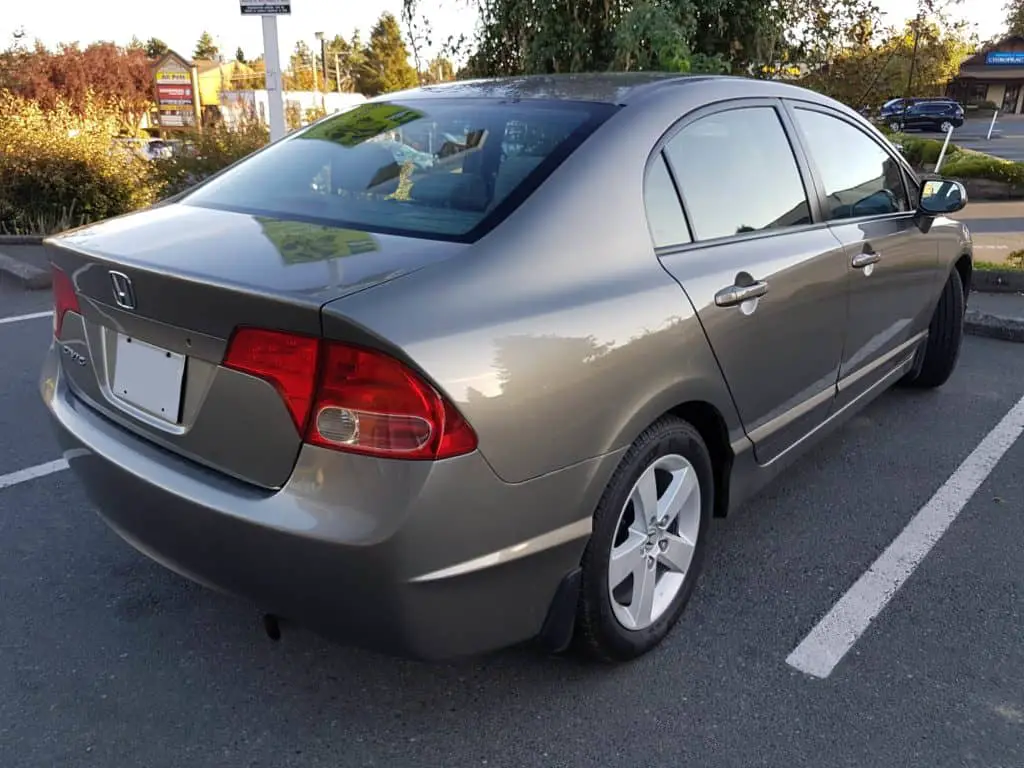 There is good news though, first off, we had a budget to replace the car! Second, a 2007 still feels brand new to me. Maybe it's because I'm used to buying older vehicles or perhaps this is something that many people go through in their 30s. 2007 just doesn't seem that long ago to me and the fact that you can get such a decent car for under 5k just blows my mind!
I got this bad boy with a little over 140k miles and she drives like new!
Related Post: 8 Good Reasons Not To Buy A New Car
How Did I Car Shop?
My main priorities when shopping for a car were safety, reliability, A/C, and an in-dash M&M's dispenser, in that order. Turns out they don't sell cars with that last feature as ridiculous as that is. I did a junk-load of research and was able to narrow my search down to 5 cars. Honda Civic, Honda Fit, Toyota Yaris, Toyota Corolla and Hyundai Elantra.
Having several cars on my list made it easier for me to find the exact car that I wanted as there was way more to choose from.
Long story short, I picked up this car for $4600, which is a great deal in the market where I live. I'm thrilled with it and so is the family.
My research tells me that this car is likely to exceed 250k miles with minimal hassle so it's got plenty of life left in it.
Why Not Just Buy New?
I had a 5k budget to work with, and I enjoy making car payments about as much as I enjoy stepping on lego bricks in the night. Of course know that with 5k in cash I could have turned that into a nice little down payment on a brand new car. That said, I've long been of the opinion that buying used is the best financial decision for most people, myself included.
A new Honda Civic at the same trim level as the one I bought would have cost me around 20k. Even with 5k down I'd be paying $200 per month for five years. I can't justify that payment when I know I can get five years out of this car.
That said, my commute to work is only ten kilometers (6 miles). I don't need a brand new car to drive that kind of mileage. At the rate, I'm only going to put maybe 6000 miles on my vehicle per year and I can't justify a brand new car for that!
So there you have it, the $500 beast is gone (I actually sold it for $400 more than I paid for it) and a new era begins.
Question for you:
Do you drive a new or used car? How did you decide what to buy?