This post may contain affiliate links. Please check out my 
disclaimer
 for more information.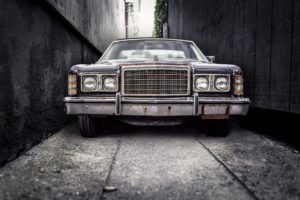 So you've decided that it's time to upgrade your ride. Like most people, you've probably spent hours online researching makes, models and colors for your new vehicle. You've probably researched which models hold their value and have a good idea of what you want to buy.
Here's the thing, if you don't invest some effort into your old ride as well, you could be leaving hundreds or thousands of dollars on the table. Sure you can offload any car for cheap, but that's not what you want, is it? You want to get top dollar for your old ride!
Good news – it's not that hard.
The reality is, there are quite a few simple, cheap or free things that you can do to ensure that you not only get top dollar for your old car, but get a faster sale and attract a better buyer as well.
Keep reading and find out how you can get the most money possible for your used vehicle.
Don't sell it to a dealership
Let me be clear here, selling your car to a dealership will almost always net you less money than you would make through a private sale. Dealerships are professional deal makers, and they're not about to give you top-dollar for your old car. They need to leave some profit in it so they can either clean it up and sell it for 10-25% more than they paid you for it, or flip it to another dealer for a smaller profit.
Dealers might make you feel like you're getting a better deal by trading in your old car, thereby saving you the tax on the value they offer you. Just remember this one thing: the dealership always wins. They don't give cars away for free and they don't make deals where they're not going to make good money.
Know what your car is worth in your market
Before you list your car, you need to know what it's worth. Not what it's worth to you or what you think it's worth, but what it's actually worth in your market. An item is only really worth what somebody is willing to pay for it.
The best place to start is by checking out the Kelley Blue Book value for your vehicle. This will give you a rough idea or what your vehicle is worth. From there, the best thing to do is search for similar vehicles listed on Craigslist and other similar sites. Do this for your city as well as a few nearby towns or cities. This should give you a really good idea of what people in your area are selling similar cars for.
Detail the interior and exterior
Would you want to buy a car that's got old chips on the floor and coffee-stained seats? Not me, if I show up to view a car and the owner hasn't even bothered to clean it, I nope the heck out of there.
You don't just want to clean your car, you want to detail it. Detailing is a complete clean that gets into every nook and cranny. It's also reconditioning some parts of the vehicle to looks like new.
A thorough detailing can make your car worth 10-20% more!
Detailing includes:

Washing and polishing the paint

Thoroughly cleaning under the hood

Clean up door jambs, under trunk lid, wheels and wheel wells and door jambs

Vacuum and shampoo carpets

Wipe down all interior surfaces and clean out every little crack and cranny.
Of course you can do this yourself, but there are tons of companies out there who are happy to detail your car for you. You can expect to pay $200-400 for a complete detail, and you should be able to recoup that in your selling price.
You might also like:How To Buy A New Car Without Getting Screwed
Have it serviced (or do it yourself)
Would you rather buy a car that will need servicing in the next month or one that just went through the shop and is good to go?
…me too.
If you want to get the most money you possibly can when you sell your car, get all upcoming services taken care of. You can usually recoup more than the cost of the services in your selling price because you're saving the buyer the hassle of having to do it themselves.
It's a good idea to have an inspection form from your mechanic available for potential buyers to look at. They may still want to have their mechanic check it out but it shows initiative and that you have actually taken the vehicle to a mechanic.
Have obvious flaws repaired
It's going to be hard to get top dollar for a car with obvious aesthetic flaws. A lot of people overestimate how much it costs to have simple things repaired. A broken piece of trim can sometimes be found cheap on Ebay, a dent in a bumper can often be pushed out with nothing more than a blow dryer (I actually did this recently, while it doesn't look perfect it's much better than it was).
If you've got a few dents in the car, try contacting a paintless dent repair company. They're often able to repair dents for a fraction of what a body shop would cost.
Replace floor mats if they're in rough shape
The condition of the floor mats definitely makes a difference in how worn out a used car feels. They tend to wear out right at the driver's heel and in the back if you have kids. Factory replacement floor mats are sometimes really affordable and can make your car look new again.
If your mats are worn out, check with your dealer to see how much a new set will cost. Sometimes they're less than $100.
If you can't find them, or if the dealership wants too much, try checking out these aftermarket mat manufacturers for good mats at a reasonable price:

Take great photos
Straight up, the of the best ways to make your ad stand out is to take great photos. You don't have to be a photographer to take awesome pictures. A good camera phone and a little forethought will do just fine. Which one of these cars are you going to consider more seriously, this one…

Or this one?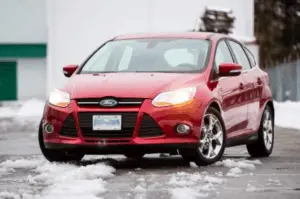 Craigslist will let you upload a maximum of 24 photos and I recommend using them all.
Digital photos are free to take so why not capture your car from every angle. Take a pic of the trunk, inside all of the doors, under the hood and several angles in the interior.
Below are some tips to help you take great photos to sell your car:

Take your pictures in daylight, preferably when it's not raining

Take photos of your vehicle from all angles, making sure to show any damage

Be sure to upload the best photo of the exterior of the vehicle first, this will be the feature photo

Take horizontal photos. It's easier to fit the car in the frame

Take your photos in the daytime, but not in direct sunlight. Early morning or late afternoon are good times to photograph your car without much glare
Write an awesome ad
A great ad isn't too hard to write. The most important thing is to include all relevant details about the vehilce including mileage, options, accessories and any recent work that you have had done on the car.

Quick note: ALWAYS make sure to be up front about any damage or issues on the vehicle. Buyers respect a seller who is being up front and honest. You're much more likely to make the sale when the buyer knows about any issues before they show up. Frankly, not doing this is a complete waste of their time. 
Know your bottom line
Most buyers are going to offer you less than your asking price. The best strategy is to know how much you want for the vehicle and list it for $500-1000 more than that. This allows you a little wiggle room to negotiate down to the price you wanted, while not asking so much that potential buyers think you're out to lunch.
Stay safe
If you're handling the sale yourself, you need to make sure to stay safe. When showing the vehicle, meet in a public place to show the vehicle. It's also a good idea to make sure somebody knows where you are or even better, bring a friend.
For the transaction, it's best to accept a cash, a certified check or money order. Many police departments will allow you to meet in their lobby to make this type of transaction. Another good place to meet is a bank or a post office. Bring a friend and stay safe!
That's all! What tips have you got for making the most money when selling a used car?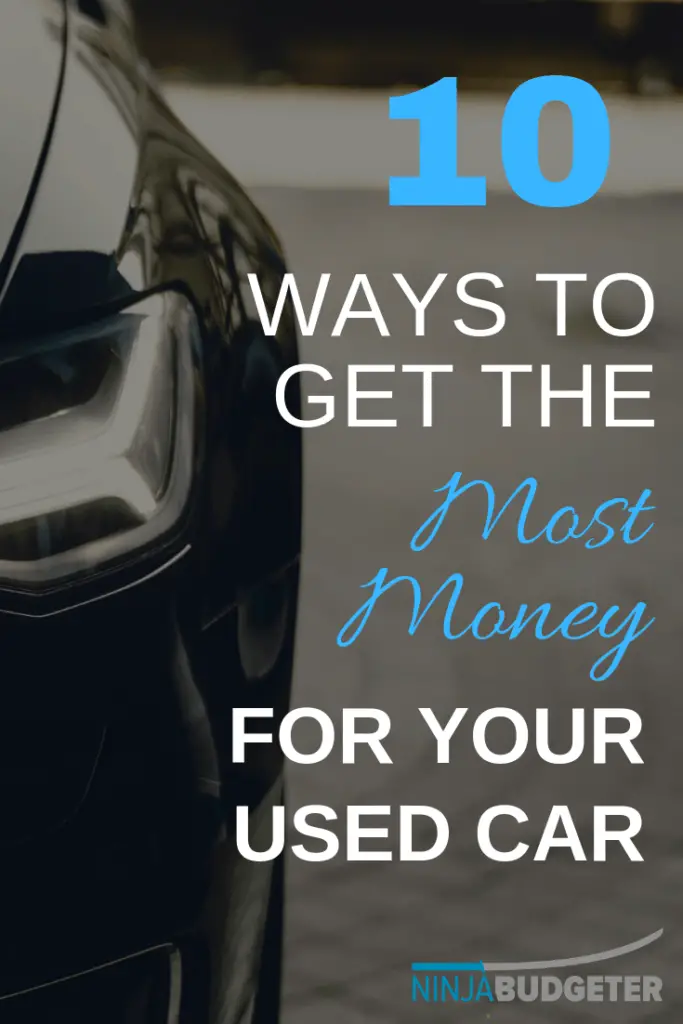 Latest posts by Mike Greig
(see all)