This post may contain affiliate links. Please check out my 
disclaimer
 for more information.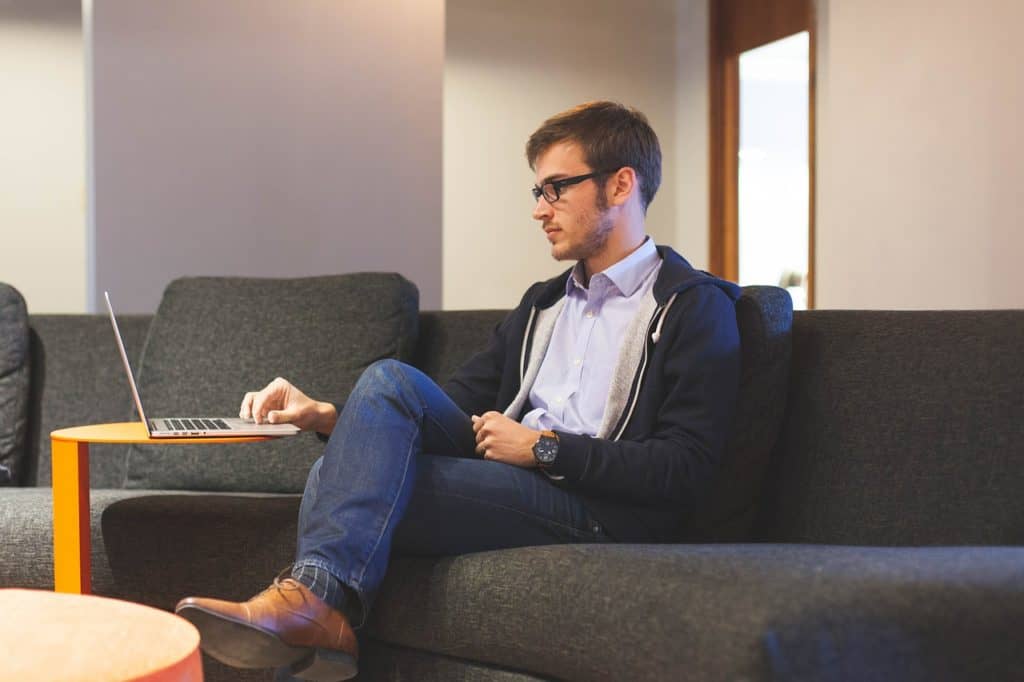 There are many jobs available out there for all different people. If you don't choose a job where you feel you can really thrive, work can seem like a huge stressor. Some people prefer working in environments that allow them to be around people. However, others prefer to work alone. If working by yourself is your ideal work environment, you're in the right place. Keep reading, I'm going to show you 11 different jobs that allow you to work alone.
Jobs that allow you to work by yourself
Working alone can be very fulfilling for some. You may feel like you can accomplish more without the distractions that come with coworkers. Fortunately, there are jobs that allow you the autonomy you want and the job security you need. Below are jobs where you can work alone in all different fields.
Freelance Writer
Writing doesn't require you to spend loads of time around people. You can write about the topics of your choice. Anything from sports you like or your hobbies to your travels or pets. You can write wherever you feel most comfortable and the best part, you can do it alone! So, if you like to write and wanted to make some money, becoming a freelance writer might be the way to go.
If you want to get started with freelance writing, here's a great resource to help you find your first job.
Related: 7 Tips for a Successful Side Hustle
Virtual Assistant
Another one of the jobs where you can work alone is a virtual assistant. As a virtual assistant, you would typically deal with one person. However, since everything would be done virtually, your time is still well-spent working alone. Becoming a virtual assistant can be done right from home.
Proofreader
Do you like to read? Are you that person who notices small errors in grammar, syntax and punctuation? Well, there's a job for that as well. Becoming a proofreader can be fulfilling and you get to work alone. You can also do this right from the comfort of your home and make good money doing it. If you're good at catching errors, this may be the job for you.
Editor
Working as an editor is a great job to work alone. There are many different types of editors, including:
Copyeditor
Line Editor
Photo Editor
Developmental Editor
That's just to mention a few. Becoming an editor allows you to work alone and work on your own schedule.
Accountant
An accountant is another job where you can work alone. If you like numbers and are pretty good at math, becoming an accountant may be the way to go. This is also another position where you can work from the comfort of your home, especially if you're really good. You could even start your own accounting business!
Truck Driver
One of the jobs where you can work alone is a truck driver. Unlike many of the jobs on this list, truck driving obviously can not be done from home. That said, it can be a fun and rewarding job and there are dozens of different types of truck driving jobs to consider.
Most people may not think of this position right off the top. However, being a truck driver can be a very solitary job. If you want to do long-haul, you can travel the country while making money. If you like to drive and have no problem doing it for hours or even days at a time, this may be perfect for you.
Medical Transcriptionist
If you are looking for a way to be in the medical field and work alone, look into becoming a medical transcriptionist. A medical transcriptionist works alone because it is easier to transcribe recordings if they are alone. Now, you can also do this job straight from home.

The benefit to doing medical transcription over working for a company like Rev, is that medical transcription typically pays better. If you want to try out basic transcription to see if it's something that you would enjoy, try Rev. The pay isn't great but you can get started today.
Social Media Manager
If you love connecting with an audience on social media than that one may be for you. Social media has become such a huge thing within the past years that many businesses now need someone to manage their online presence. That is where a social media manager comes into play. A social media manager also goes by many names so if you've been looking for this position, try looking under:
Internet marketing manager
Social media director
Director of community
Interactive media coordinator
You can even become a social media freelancer if you just put yourself out there. All of your duties can also be performed alone and on the go. That's always a plus.
Courier
With the rise of Amazon and online shopping in general, there are lots of courier jobs available. While you will have some level of interaction with people working as a courier, your encounters will be brief. Most of the job is just solitary driving.

There's good money to be made as a courier if you can get on with a good company. You may even want to consider starting your own courier business. With a few good connections and a reliable vehicle, you could be working alone in no time!
Computer Programmer
There's always going to be work for good coders. If you like writing code then becoming a computer programmer should be an option for you. You can create your own codes and work alone. You also have the potential to make a decent amount of money.
Web Developer
Ever wonder about who's behind the making of a website? Well, it could be you. As a web developer, you can create websites and work by yourself. Web developers can work in a number of different environments, including:
advertising
computer systems design
publishing
technical consulting services
That's just to name a few. You can also be a freelance web developer. If you choose to become a web developer, you can also work in the front-end or back-end of web development. There's so much to choose from in this field.
Photographer
Photography is a great field of work to go into if you like working alone. Some people don't believe there's much money to make as a photographer. However, that is far from true. Photographers have the potential to make a lot of money, especially those who can work in fields such as:
commercial photography
photojournalism
freelance photography
You can even make money from taking school portraits. Since photography is a form of art, you can be free with your work so that people can interpret the way they see fit. Choose the field of photography that works best for you and just go for it.
Actuary
If mathematics and statistics are more your speed, becoming an actuary might be right for you. You can work alone which is most often preferred. Seeing as thought this field is projected to grow over the next 5-10 years, you may want to consider this job as an option.
Web Designer
You can build and redesign websites in your spare time. Unlike a web developer, you are not required to know how to code. You can design websites alongside a web developer or you can work alone.
IT Manager
Are you technologically advanced and interested in information systems? Then this could possibly be the way to go. IT managers work alone. They are responsible for setting up and correlating the day-to-day activities of the information systems of the company they work for. If this sounds interesting to you, then this might be meant for you.
Conclusion
You can be successful and work alone in a number of different fields. There are countless jobs where you can work alone, just get looking. If any of these sounds like jobs you're interested in, go for it. You'll never know unless you try!
Latest posts by LaTia Longuemire
(see all)