This post may contain affiliate links. Please check out my 
disclaimer
 for more information.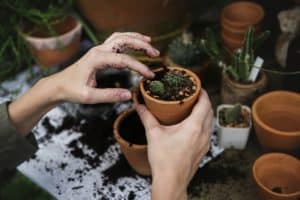 If you're looking for a way to make some extra money, you're not alone. Getting a second job is probably the quickest way to up your income, but who wants to get home from work and go straight back to work? Ain't nobody got time for that #nothanks. Finding a hobby that makes money is a great way to balance doing something that you actually enjoy with making some extra cash.
My wife built her career on a hobby. She loves horses and riding, training and competing have been her hobbies since childhood. She started out with one horse and has built a thriving horsemanship business from scratch. She's succeeded because she loves what she does. That's the power of starting with a hobby that you enjoy.
Ready to find a hobby that can make you some extra money, and just maybe turn into a career? Keep reading.
Online hobbies that can make money
If you've got some hustle and work ethic, these online hobbies can earn you money from anywhere you can get an internet connection. Online hobbies can be the most gratifying and the most frustrating at the same time. It's super easy to start anything online but it takes time to build.
Flipping items on craigslist
Flipping is my favorite hobby. It's fun, profitable and anybody can do it. There are thousands of things that you can flip but I recommend sticking to the most profitable things. Usually, items with the most profit potential have a higher price and they're relatively simple to add value to. Some good examples are:
Appliances
Vehicles
Boats/Jet Skis/ATVs
High end and vintage electronics
Another way to make this a profitable hobby is to sell things for friends and family. Many people don't know how to use Craigslist most effectively or don't want the hassle of strangers coming to their home. You can sell their high-priced items for them for a commission!
Blogging
Blogging can be a great hobby. Over time, if you commit the time and effort to you blog, you can turn it into a profitable hobby, or even a full-time business. What I love about blogging is that your blog can be about anything you want. For example, there are entire blogs out there dedicated to succulents (cactuses) and my personal favorite, the hatred of cilantro haha.
When considering a blog topic it's best to focus on your hobbies, passions or interests. This will ensure that you stay interested and motivated for the long-term.
Want to get started? Click here to start your own blog today for just $0.99/mo!
Podcasting
If you like to communicate, but don't love to write, consider podcasting as a money-making hobby. Like blogging, there is not limit to what you can podcast about. The smaller the niche of your topic, the simpler it will be to build a following.
There are several ways to make money from a podcast including:
Sponsorships
Affiliate marketing
Selling a product or service
Podcasting is a more intimate way of connecting with an audience than writing a blog and be a business on it's own, or a great tool to help you grow your audience for another hobby or business.
Social media management
Do you love connecting with people through social media? Some companies choose to outsource their social media management to freelancers rather than worry about it themseleves. In fact, you can even turn social media management into a full-time job. How cool is that?
Some great places to start offering social media management services are:
Let your friends know about your service on Facebook
On your own website
Craigslist
Outsourcely
Proofreading
Are you a stickler for accuracy? Proofreading may be a great money-making hobby for you. Not only can you make money proofreading, but you also get to read all kinds of interesting material and learn new things.
Here's some info on how to get started as a proofreading freelancer.
Coding
If you're a talented coder, why not offer your services as a freelancer? There's always demand for good coders and if it's a hobby, rather than a full time living, a few freelance jobs might be just the hobby to make some extra cash.
Graphic design
I couldn't design my way out of a wet paper bag, and there are many others out there like me. That's where you come in. You can offer freelance design services on Craigslist, Facebook, you own site or a variety of freelance sites to start making money from your art.
A few popular services that you can offer are:
Logo design
Header design
Ebook cover design
Website design
Create an online course
There is something that you know more about than the average person. Have you ever thought about teaching that skill to others? There are many online platforms that allow you to do just that – create and sell a course.
Udemy and Skillshare are a couple of examples of sites that allow you to create and sell courses. The advantage of using one of these sites is that there is an existing audience, which can make customer acquisition much simpler.
Ways to make money from a writing hobby
Start freelance writing
If you love to write, why not try and get paid for it! There are dozens of sites that connect people buyers with freelancers. I recommend you try Outsourcely. With Outsourcely, you search for jobs and place bids on ones that interest you. If the client likes it, you complete the job and get paid.
Become a travel writer
There are many different ways to make money as a travel writer. You could start a travel blog like Nomadic Matt, write hilarious commentary like Bill Bryson, or focus on travel guides like these folks.
Calligraphy
Calligraphy is the art of creating beautiful, ornate lettering to communicate ideas in a classy, sophisticated manner. It's an art that takes a long time to learn and there are people out there who are willing to pay for a talented calligrapher. Some ways to make money with calligraphy include:
Creating wedding invitations and table place cards
Creating party invitations
Create and sell wall-art, cards and other crafts via an Etsy store
Transcribing poetry
Automotive Hobbies That Make Money
Help friends and family with car purchases
With a car buying business, you help clients decide what type of vehicle will suit their needs and find the vehicle for them. You can take care of having the car inspected and negotiating the deal. This can be on new or used cars.
There is a car buying company in my town that deals with finding and purchasing a car on your behalf. They will handle finding the right used car, or going straight to the dealer to find a new vehicle. You choose a car and options and for a flat fee, they negotiate a great deal and you pick up the car.
Sell cars for people who don't want to
I think flipping cars is an awesome hobby. Unfortunately, where I live, there are restrictions on how many cars you can sell in a year without a dealership license. Additionally, you must pay tax when you purchase a vehicle, and you're supposed to pay income tax again on the income from the sale.
What's the next best thing? Sell cars for friends and family. For a flat or percentage based fee, you can deal with cleaning and listing the car as well as getting a Carfax report. Take high quality photos, facilitate the test drive and negotiate the deal. This is a hassle that many people will happily pass off to somebody else.
Repair vehicles
Shops charge big prices for parts and labor. If you have the mechanical know-how, you could offer simple mechanical services to friends and family. Filters, oil changes and brake jobs are a few things you can offer.
(Even if you don't have the mechanical street cred to offer this as a service, you can still save lots of cash by learning some simple maintenance tips for your own car.)
Detail vehicles
There's nothing like the feeling of a freshly cleaned vehicle. You can be the person who makes it happen. Cleaning cars can be a fun, satisfying and lucrative hobby. Professional detailers charge upwards of $300 for a full detail. You can charge half of that to clean cars at home and make a tidy profit. If you specialize by working on heavy trucks, RVs or boats, you can charge even more money.
Restore antique vehicles
If you have a knack for finding unusual or antique vehicles that need some work, restoring and selling them can be a great way to monetize your hobby. If you have the space and the know how, this can be a lot of fun!
Drive with Uber
If you love to drive, why not give Uber or Lyft a try. You can make some extra cash while hanging out in your own car and meeting new people.
Drive limousine
Another fun way to make money driving. I drove for a small limousine company for a couple of years. It can be a lot of fun and the tips are awesome.
Most states or provinces require a commercial license to drive a limousine. That said, it's not too difficult to get and the tips can be really, really good.
Making Money With A Radio Control Hobby
Become a drone pilot
With the rising popularity of drones, there's a growing demand for competent pilots. Drones are used in hundreds of applications and there's some opportunity for somebody who loves to fly. It's important to know the local rules surrounding drone usage. You may be required to hold a license or even a flight permit in your area.
Some ways to make money as a drone pilot
Aerial real estate photography for realtors
Aerial photography and video for businesses
Fly over videos for golf courses
Working with established videographers
Build custom RC projects
I know a guy who builds and sells RC construction equipment. It's obscure, but there are people out there willing to pay big money for professionally built RC excavators, dump trucks and other equipment.
There's also a great market for custom airplanes, drones and rock crawlers. If you love to build this type of stuff, this could be the hustle for you. Start by checking out relevant forums to find out what's already selling.
Make Extra Money Building Things
Carpentry
If you have some carpentry skills, there are dozens of ways you can turn it into a hobby that makes money. Building decks, kitchen or bathroom renovations, sheds and arbors are some great projects that many homeowners don't have the time and skills to take on themselves.
If you're exceptionally ambitious, you can even build your business via a YouTube channel like the Samurai Carpenter. He has an online store and offers a variety of products and courses in carpentry.
Furniture restoration
This is a great skill to learn for flipping, but you can also offer it as a stand alone service. Antique and high-end furniture needs to be treated with a great deal of care. If you have a talent for giving old furniture new life by refinishing, upholstering and painting, this is a great hobby to make money.
Here's a guide to help you get started with refinishing/flipping furniture.
Create wall art
Making art out of distressed wood or pallet wood is super popular right now. You can check out Pinterest or Etsy for some ideas for projects that you can make and sell.
Some of this stuff is fairly simple to make and looks awesome! Here's a successful Etsy store selling this type of stuff for inspiration.
Metalwork
If you have the tools and experience to do metalwork, good money can be made both in art, and more practical applications. I know somebody who does really well with welded metal wall-art. The pieces take him a day or so to make and sell for $4000-6000. Yah, you read that right.
Make Money As A Public Speaker
Become a wedding emcee
Being an emcee at weddings is something that people often ask a friend to do, but some hire a professional. If you have a great sense of humor and enjoy public speaking, you can hire yourself out as a professional emcee for weddings and events.
As a person who has emceed more than a dozen weddings in the last 8 or so years, I've often thought that this would be a great hobby to earn some extra money if it is marketed well.
Motivational speaking
I was surprised at how big the market for motivational speakers is. There are hundreds of professional speakers who put their ability to capture an audience and communicate effectively to work as a money making hobby, or a full-time business.
Professional speakers can find paid work presenting at:
Conferences
Corporate events
Workshops
Camps
Stand up comedy
If you get good at stand up comedy, you can be paid to perform at comedy clubs. You can also hire yourself out for parties, events and other public speaking gigs. Stand up comedy is really tough (I've done it), but it can make you money if you stick with it and commit to honing your skills.
Hobbies That Make Money For Musicians
Instrument tuning and repair
Do you know how many neglected pianos there are in this world? The correct answer is a crap-ton. If you have the skills required to tune an instrument, it can be a great side hustle. There are at least a couple of piano-tuners in my mid-sized town. There's definitely a market. Have some cards made up as there's good potential for repeat and referral business.
Flip musical instruments
Musical instruments are a great item to buy and sell for a profit. If you have the skillful eye to spot undervalued instruments you can make some good money. I'd like to get into buying and selling pianos. I tend to favor things that others won't deal with as they're large and difficult to move.
Teach music lessons
If you're a professional musician, whether vocalist, pianist, drummer or other, you can make money teaching others your skill. This can be in the form of a position at a music school, or taught privately in your home, or your student's homes.
Become an event musician
If you're playing music anyways, why not try to pick up some paid gigs? It might not pay huge money but if you love music, it's a great way to make some extra cash doing what you love. Some ways to find paid gigs include:
Network with business owners in the wedding industry
Advertise on Craigslist and other local sites
Advertise your service on social media
Become a street musician
Busking can be both fun and lucrative. I live in a tourist town with heavy cruise ship traffic and the street musicians around here can make serious money in the summer. Make sure that you familiarize yourself with the local rules and in some places busking requires a permit or license.
Other Money Making Hobbies
Become a bartender
If you're somebody who loves to mix up custom drinks at parties, you might want to consider bartending. Bartending can be a fun way to learn to make drinks while meeting interesting people. It can be a really satisfying money making hobby.
DJ for events and parties
Being a DJ is more than just an iphone playlist and a stereo. If you're the real deal, and love the art of DJing, why not offer your services for events such as weddings and office parties?
Guide local tours
If you love meeting new people and getting exercise you can make money organizing walking tours through your city. Take visitors to all of the landmarks and noteworthy places, get to know your town better and get paid for it.
Hobby farming
We know people who raise cattle, pigs and chickens as well as growing some veggies on less than 8 acres. The local food movement can be an opportunity for the budding farmer. If you have property and love farming, you can make money by raising and selling local meat or vegetables.
Metal detecting
You can find some amazing things on local beaches or in the forest, all while having a lot of fun! It's possible to find coins, jewelry and all kinds of other fun stuff with a metal detector.
Learn magic
Have a flair for magic? You can get paid for it. Why not rent your services out to kids (or adult) birthday parties, office parties and other events? You can charge good money for a couple of hours work in many areas and of course, it's a lot of fun.
Learn how to invest
If you're already investing for retirement, why not take a small amount of money and set it aside to invest as a hobby? Investing money can be fun and lucrative. There are lots of ways to get involved in investing, even with a small amount of money. A couple of examples are:
Peer to peer lending
Trading stocks via a self managed brokerage account
Make jewelry
There are many different kinds of custom jewelry out there. Whether you work with wooden beads, stones, hemp or what have you, there is a market out there for it. Consider offering your hand made jewelry at markets, in existing stores or on Etsy.
Take dogs for a walk
If you love spending time with animals, dog walking can be a fun way to get exercise and make a bit of money. This can be a fairly easy gig to pick up by advertising to friends and family. Don't expect to earn huge money but being paid to walk dogs is awesome nonetheless.
Sell your baking creations
Most people would rather have fresh cookies, bread and muffins than the store-bought stuff. If you love to bake, you can bake some extra and offer it to family and friends. You can do this as a money making hobby just to pay for your own baking or try and turn it into a small business.
Beekeeping
This is a little obscure, but if you have the space, you might want to try your hand at beekeeping. You can sell the honey you produce Fresh, local honey is awesome-sauce. My wife and I pay a little extra to buy from a local producer. Plus, being a beekeeper is a great conversation starter.
Make jam
Everybody loves homemade jam. If you love to make jam, you can sell what you don't use. You can reduce your product cost by growing your own berries and/or harvesting wild berries to make jam with. You could also offer a small discount to customers who return their jars to save you from buying more.
Decorate other people's homes
There are lots of people out there who don't have an eye for decorating, my wife and I are a couple of prime examples. If you're a talented decorator looking for new projects why not offer your services for a fee? You could also get involved with home staging for real estate brokers.
Cut hair
I know how to do one haircut – the military kind. If you're more talented than me when it comes to cutting hair, you can do cuts for friends and family for a fee. I used to go to a friend who cut hair at home. I was happy to pay her the same I would pay a barber, and I got to hang out with a friend.
Photography
If photography is your hobby, you can make some extra cash in a few different ways. Family photo shoots, events, babies, pets etc…there are lots of occasions where a talented photographer comes in handy. You can also sell your images via stock photo sites to make some money.
Become a gardener
Got a green thumb? Growing local food is huge right now, and will become more and more important in the future. You can also manage flower gardens and other landscaping. Not everybody wants to do that stuff and you can make some great extra cash this way!
Sell used books
There is a huge market out there for used books. High value books such as college/university textbooks are a great way to make money. You can buy them locally, sometimes in bulk from students on Craigslist and sell them for a profit on Amazon.
Build smart devices
For techie types, you can build and sell fun projects using arduino or other robotics platforms. Smart mirrors, self-balancing boards and lighting systems are just a few examples of what can be accomplished.
Sewing/making clothes
Like to make clothing? You can sell your creations locally, through your website, Shopify store or of course, on Etsy.
Leatherwork
This is another great craft for Etsy. My wife recently bought me a belt and matching keychain from a Canadian leatherworker on Etsy. It's really high quality and I would definitely buy from a small hobbyist again.
Sell firewood
If you have a wooded property, or other access to firewood. You can split it up into useful chunks and sell it to campers, or in bulk to people who heat their homes with a wood stove.
Endless possibilities…
Almost everybody has a hobby, though you may not have sorted out how to earn money with it quite yet. No matter what you're into, there's probably a way that you can make money from your hobby. I hope that this list has helped to get you thinking about ways you can earn from your passions. Start small, and if you keep applying consistent effort, you can make money from your hobby.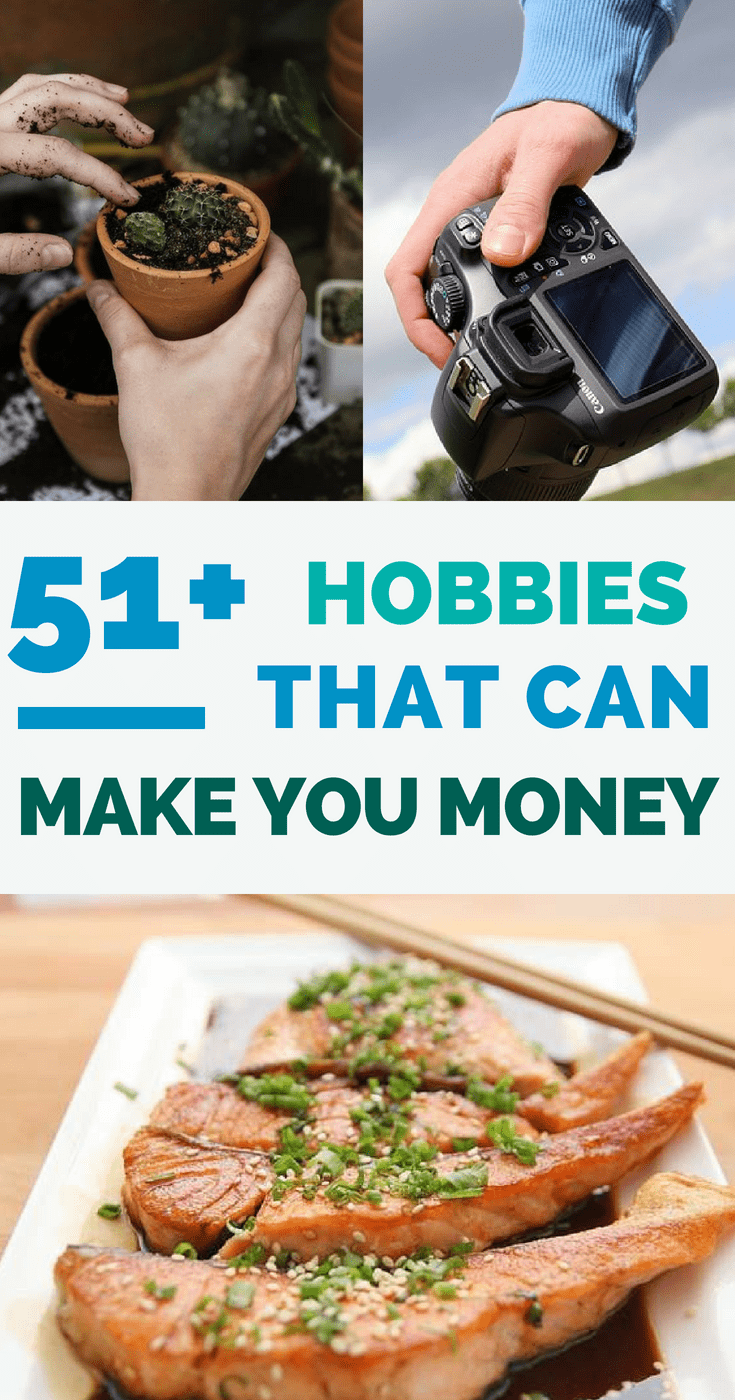 Question for you:
Do you have any hobbies that make money? If so, what are they?

Latest posts by Mike Greig
(see all)