This post may contain affiliate links. Please check out my 
disclaimer
 for more information.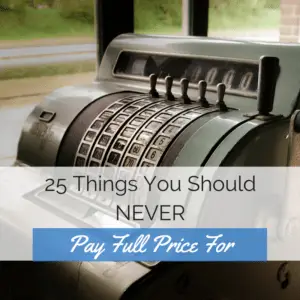 Who doesn't love a good deal? In this post, I'm going to show you how to save hundreds of dollars per month on things that you already buy. Do you ever think about how many times in a week you just whip out your credit card and pay what a store is asking?
Do you realize you could be throwing away hundreds of dollars per month?
I'm always on the hunt for a good deal, I guess you could say it's in my blood. My father is a salesperson's worst nightmare.
My dad will walk into a store, approach a group of salesmen and ask: "who wants to wish they'd called in sick today?" He does this of course, because it works. The sales staff know he's not messing around and nine times in ten, he gets the deal that he's after.
Most People Just Don't Bother
It's sad, but it's true. Most people don't budget or even track their expenses. According to this 2013 Gallup poll, only 1 in 3 American households follow a detailed budget.
They don't even know how much is being spent on everyday items. This of course, makes it really difficult to get motivated to find bargains.
If you do not have a budget, I strongly recommend you start one today.
Now, onto the good stuff.
20 Things You Should Never Pay Full Price For
1.  Vehicles
You should never ever pay full price for a vehicle, whether it's new or used. The key to saving money on a car purchase is information. You need to know exactly what the car you're looking at is worth on the market, and how much you're willing to pay for it. The main reason people pay too much for vehicles is that they're simply uninformed.
Also read: How To Buy A New Car (Without Getting Screwed)
2. Car Insurance
Do you shop around for car insurance? You should be. There are lots of companies out there and some of them are will be willing to lower their rates based on your accident history, age, how many people drive your car and many other factors.
Take a copy of your previous year's insurance premiums and visit a few offices. Tell them that you'd like the same coverage, but that you're looking to save some money.
3. Groceries
Hear me out on this one. You may not be into hardcore couponing, but there are dozens of ways to save money on groceries. Are you loyal to a certain brand? Stop it, you can save a lot of money by eating generic cheese and cereal.
Plan your meals, bring a list with you and stick with it. Shop the outside of the store first to fill your cart with the meat, dairy and veggies that you actually need. Last but not least, buy expensive items like meat at a wholesale store and trim it yourself.
4. Clothing
I can't stand thrift stores, but I still get a deal on most of what I buy. I head right for the discount rack that's at the back of most men's stores. If you have expensive tastes, you can always try an item on at the store and then hunt online for a great deal in your size.
Another great tip for men: rather than buying $120 jeans, you can buy jeans that cost 1/3 of that and have them tailored to look just as good for $10-$15. Trust me, nobody will know the difference.
5. Your House
Unless you have the bad luck of buying in a highly competitive seller's market, you shouldn't be paying full price for your house. Instead, make an offer in the amount that you're willing to pay and try making other concessions such as a quick closing date.
Remember that you can also ask for pretty much anything you want in your offer. My wife and I acquired a very nice dining room table, a dresser, a desk and a bed this way.
6. Home Insurance
As with your car, there are plenty of companies around that offer home insurance and want your business. You're the customer, you have the money and they want your business. Take your previous year's policy with the total cost and spend a Saturday morning shopping it around. You can save several hundred dollars on this tip alone.
7. Internet
This is a new one for me. Last year I got a tip from a friend about a small, discount internet provider that had started up near me. I checked them out and they had a plan that was $39.99. I was currently paying $79.99 for an equivalent plan from one of the big providers but had a data cap that I'd gone over a couple of times making the small outfit less than half the cost. I've been with them for a year and a half four years now and have no regrets, the service has been fantastic.
8. Home Phone
These days, most people use their cell phones as a full-time phone, making a land line a great way to spend $35 per month on something that never gets used. Consider dropping your home line a hooking up with a Voip (voice over IP) service instead. There are now several Voip providers that will allow you to use a local number as well as give you normal access to 911.
9. Banking
It get that it's a hassle to switch banks. But with so many banks offering free personal checking accounts, it's worth considering a switch. You can save some good money here.
10. Books
I don't think anybody that lives in a town with a library should be paying for paperback books. That said, if you're the type that likes to have a library in your house or don't live near one, try shopping for your books on Amazon, eBay or bookfinder. There are way too many of these sites for me to list them all. Try google searching with the title of the book and words like 'sale' and 'discount'. You may find an online book store you didn't know about.
11. Furniture
Household furniture is ridiculously marked up. I recommend always buying your furniture used and having it cleaned. This can easily save you 50% or much more if you're talking about high-end leather furniture. If you must buy new, remember that you can and should negotiate the price. If you find that the store is reluctant to reduce the price, simply try another, there are dozens in most towns. In lieu of a discount on price, you can negotiate free delivery or an extended warranty.
12. Mattress
Unlike other furniture, you probably don't want a used mattress. Good news, there are even more mattress stores than furniture stores and the price of mattresses is also marked up an obscene amount. Getting a deal here is easy. Get a quote on a mattress. Take that quote to another store and ask them if they're willing to beat it. Make sure they know you have cash and want to buy today. Repeat this until you've reached a price you're comfortable with. It's worth mentioning here that Costco sells good mattresses for significantly less than the chain stores do.
13. Appliances
You almost have to actually try to pay full price for a major appliance. Stores like Home Depot almost always have at least one brand on sale. You can also find great appliances marked down by as much as half in the 'scratch and dent' section. I can't see the side of my fridge and I'd be thrilled to save $400 because there's a dent on the side.
Craigslist is also a great place to get appliances. Just make sure that if you're buying used, thoroughly test the machine and assume that the seller is lying to you.
14. Rent
This largely depends on who you're renting from. If it's a small time landlord, many times you can negotiate a lower price in exchange for a longer leasing period. If that tactic doesn't work, consider offering to take care of maintenance the landlord would otherwise have to pay a service business for. This works especially well if you're trained or willing to learn an otherwise expensive skill. Mowing the lawn, pressure washing, and gutter cleaning all come to mind as decent value add.
15. Construction Materials
There is this amazing little store in my city called the ReStore. All they sell is use construction materials. Windows, doors, moldings, carpet, tile, light fixtures, you name it. Everything is a fraction of the cost you would pay from a major store and it's all new. I have friends who have done full room renovations using only supplies from this store. You probably have one in your city, check it out.
16. Cleaning Supplies
I don't think you should buy cleaning supplies on sale. Why would you pay $7 for a bottle of chemicals when you can clean your floor with vinegar and water? It works just as well (probably better) and costs nearly nothing. My wife and I have been using it for years. You can make any cleaning solution you might need from stuff you already own. You should also consider switching to cloths from expensive paper towel.
17. Personal Items (Toothpaste, Deodorant etc.)
Things like toothpaste, deodorant an shampoo go on sale all the time. Coupons are also pretty easy to come by and can often be downloaded from the manufacturer's website. When you find super cheap toothpaste, toothbrushes or shampoo, buy a few so that you're set until next time they go on sale. This kind of stuff can also be found at a steep discount at most dollar stores.
18. Christmas Gifts
Make your Christmas list in June. That gives you nearly 6 months to hunt down deals on the things you're going to buy. You can order from eBay or Amazon, you'll even have time to make returns before Christmas if you need to. It also spreads out your cost a good ways, which will help you stick to your budget.
19. Flights
There are less seat sales than there used to be, as planes are flying closer to capacity more of the time. That said, it's still possible to get a deal. The key here is being flexible on your dates. You can usually get cheaper flights in the middle of the week. You can also watch for seat sales to come up and plan your vacation around them. That's how my wife and I went to Hawaii in 2011. She found a great deal on WestJet and phoned me at work. She bought it and we planned our holiday around it.
20. Hotels
Honestly, staying in a hotel is the most expensive way to get a night's sleep. Consider alternatives such as vacation rental suites (VRBO) and airbnb. If you must (or really want to) stay in a hotel, book directly. Tell them that you wanted to book through them rather than Expedia or whoever and that you'd like the best deal they can offer. You may end up with a bit of a discount, but more likely, you'll get yourself a free upgrade, which is pretty nice as well. We've done this at least 5 times now.
21. Cell Phone
If you need to have the newest, best cell phone, you're going to pay a small fortune for it. Some flagship smartphones are well over $1000 to buy outright. You can always get a better deal on last year's model. They're often only marginally different from the current model and you can save over $500 sometimes when the manufacturer is trying to clear them out. Occasionally, you can do even better and find a brand new phone that's 2 years old. It's still brand new!
Looking for more ways to save on your cell phone bill? Check out this post for more tips.
22. Eating Out
I always feel a little bit awkward using a coupon at a restaurant, but a deal's a deal. If I can get my hands on a 2 for 1 coupon, that's where we're having date night that week! You can also check sites like Groupon and redflagdeals for restaurants that are offering great discounts.
23. Movie Theater
If there was ever a black hole to just stand at and throw money into, it's the movie theatre. $12 for a ticket, $6 for a popcorn, it's insane how much they charge for everything. Thankfully, it's really easy to get a deal at the theater. Most theater's have a cheap night (typically Tuesday) that's a few bucks off the full price of admission. I have been buying movie passes at Costco. They're around $25 and include 2 admissions, 2 soft drinks and a bag of popcorn. Definitely not cheap, but a good bit better than what it costs otherwise.
24. Extended Warranties
Extended warranties on most items are a ripoff, plain and simple. If you can get an extended warranty thrown in with a deal, fantastic. Although I would strongly suggest that you use that negotiating power to get yourself a bigger discount on the item itself.
25. Cable Subscription
We have been without cable TV since 2009. That's not to say we don't watch TV, we just choose from the hundreds of shows that can be streamed directly from the network's site, or found on Netflix for a couple bucks per month. Often when I tell people that they should consider dropping cable they tell me "it's bundled with my internet and phone". That's not a reason to buy it. They bundle it because it's the only way to get people to pay for it and hide the fact that you're getting a crap deal.
Even if you do not want to drop cable completely, it's possible to save a lot of money on your bill. There are two things you can do to get a better deal on cable: negotiate a better rate with your current provider, or move to a discount provider. Based on my experience with our major local cable companies in years past, I recommend the latter.
Life feels like it's always getting more expensive because, well, it is. Every year it gets a little more important to trim the fat from your expenses and invest your money where it really matters. Remember that almost everything you buy is either avoidable or negotiable. Acting on just a few of the tips above can save you hundreds of dollars and get you closer to your financial goals.

Latest posts by Mike Greig
(see all)