This post may contain affiliate links. Please check out my 
disclaimer
 for more information.

If you have a heartbeat and a capable vehicle, you can make money flipping appliances on Craigslist. Of course appliances isn't the only way to make cash, but they're my favorite.
Whether you're into flipping cars, furniture, or my personal favorite, flipping appliances, there's big money to be made on sites like Craigslist, Facebook Marketplace and Kijiji.
If you're a good negotiator, and enjoy the challenge of negotiating a good deal, this may be the side hustle you've been looking for.
I've been flipping Craigslist purchases for a long time. Over the years I've bought and sold cars, furniture, electronics and of course, appliances. The challenge of trying to make money on something (or upgrade an item for free) is a lot of fun for me.
How I Got Started Flipping Appliances On Craigslist
Back in 2013, we found out that my wife was pregnant with our second child. After our son was born, we had some difficult family issues to deal with that required me to take time off from my job. While I was on leave, we were surviving but just scraping by financially. I knew I needed to find some kind of side hustle to make some extra cash every month.
That's when I came across an interview with Ryan Finlay from ReCraigslist. This guy makes a full-time living buying and selling old appliances on Craigslist.
Say what?
Yep – full time. And he's been doing it for years. Basically, he buys the machines, cleans and repairs them as necessary, and then resells them for a profit. I was blown away! I knew that it was possible to make some cash flipping large-ticket items…but full time?
Why Appliances?
Appliances are easy to sell. 

Usually, when somebody is looking for an appliance it's because their old one failed. This means customers usually have a sense of urgency to buy.

Very few people know what a good working appliance is worth on the used market. This means that you can sell most machines for a good price and don't have to do as much haggling.

Appliances are big and heavy. This reduces competition. Most people who flip on Craigslist don't want to deal with big, heavy machines. That means there's opportunity for somebody who has a truck and doesn't mind heavy lifting.
I Decided To Give It A Try
At that time, Ryan ran a paid membership site dedicated to appliance resellers. Since he has a family of 7 to support, and has been making his living this way for several years, I decided to try it out and joined that day.
The next day I borrowed my father in-law's pickup truck and went out to buy up a bunch of appliances. Because we had limited space at the time, I made a deal with my in-laws to rent some dry garage space from them to store my appliance inventory while I cleaned and repaired the machines.
I learned quickly that it's fairly common to find free and cheap washers and dryers that don't work. Often, the repair is something super-easy like a washing machine lid switch, or a heating element or thermal fuse in a dryer. Over time, I started to keep a small stock of the parts that commonly failed to I could do quick repairs and sell the machines fast.
What Tools Are Needed
Here's what I needed to get started flipping appliances for profit on Craigslist. I had much of this kicking around but spent about $50 the first day to pick up some smaller things from the hardware store.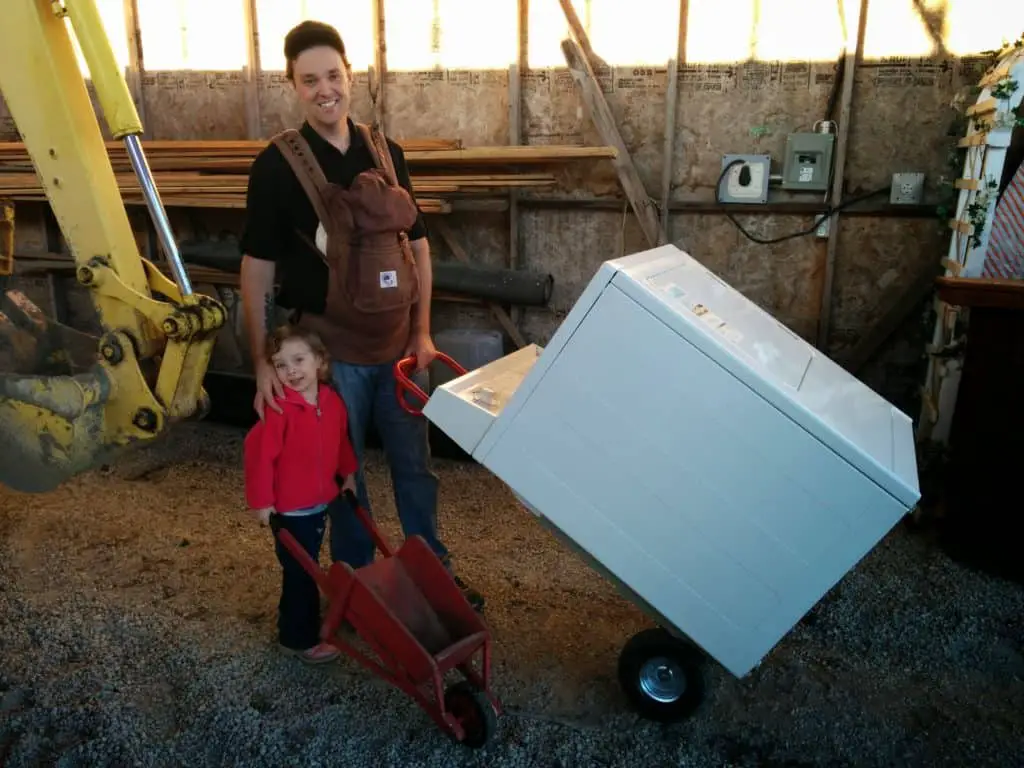 Buying Stock
Of course before I could sell anything, I had to buy up some appliances. I went out my first day and bought 3 appliances from one person. I picked up a working washer and dryer and a second dryer that didn't work. The next day, I was able to sell two of those machines for a profit of $80. I was hooked.
Related Content: 
It didn't take me long to learn that no matter what you're reselling, the money is make when you buy the stock, not when you sell it.
Because I stuck exclusively to appliances, I quickly became really good at knowing a machine's value on the market. If I couldn't buy a machine cheap enough to leave at least $50 in profit for me, I wouldn't bother. This was my goal for minimum profit on each sale after I covered gas and parts.
The key to making money is this – know how much an item will likely sell for before you buy it.
Tips for buying items to resell on Craigslist.
Know the market value of the item that you're buying

If you're not sure that you can make money on the deal, walk away

When searching Craigslist, hunt for your keyword + urgency modifiers such as 'fast', 'divorce sale', 'urgent' and other phrases that indicate a motivated seller. These deals give you the best negotiating leverage

Always carry small bills and change. When you make an offer, you want to have the proper change on-hand to actually pay.
Where to get free appliances
Before you get started, there are a few great sources of free stock that you should be aware of.
First, you can ask the customer to trade in their old appliance when you sell them a refurbished machine. This can keep a steady stock of machines that need repair.
Second, check Craigslist for free appliances daily. You will be amazed how many good appliances get thrown away because they have one simple issue that the owner doesn't want to fix. Easier to get a new set I guess. Their loss can be your gain, but be quick! These deals get snatched up fast.
Cleaning Your Appliances
I won't cover repair here as it varies so much by make and model, but if you're considering this as a side-hustle, definitely  take the time to google how to properly clean your machine before you list it. Cleaning makes an item more presentable and adds value in the mind of your buyers. People will often buy a polished up machine that is a piece of crap rather than a dirty machine that is in perfect working order.
When I got an appliance back to my shop, the first thing I would do is test it. If the machine didn't work properly, I would either diagnose and repair it, or part it out and keep the parts as spares to fix other machines. If it worked, I would give it a thorough cleaning and a new coat of white paint of necessary. Machines were usually listed for sale within two hours of me buying them.
How To Repair Appliances
This can be really tricky or really simple, depending on how you do it. There is a lot more money to be made in appliances that you repair for resale than there is in functioning units.
I have some technical skills, but I still didn't want to be pulling apart the newer, more complicated front-loading machines. They're more difficult and expensive to repair, so I chose to only work on top-loaders. I'm not going to go into too much detail here but I'll say this: most repairs on top loaders are fairly straight forward and most parts are fairly cheap.
Repairclinic.com is a fantastic resource. They have repair videos as well as a tool that you enter the machines's model number into, and it generates a list of part numbers for that machine. You can then order the part through them or you can usually enter the part number into Amazon and find it a little cheaper.
How To Sell Appliances On Craigslist
Selling can be a challenge. You're working with the general public and as you probably know, some people are just nuts. There are a few steps you can take to ensure that you only get buyers who are serious and willing to pay your asking price. Here are a few tips.
Take detailed photos from every angle including inside the machine and post as many as the site allows (Craigslist lets you post a maximum of 12).

Write an incredibly detailed description including model number, condition including any dents or scratches or other issues as well as approximate age.

Indicate that you are firm on price.

Don't communicate by text. I found that serious buyers are almost always the ones who contact by email or phone. I can't explain why but it didn't take me long to stop doing any contact by text.

When you talk to the potential buyer, confirm that they understand the price is firm. This will save you haggling.
Who buys used appliances?
There are a lot of people who are hunting for good used appliances. Some examples are:
Landlords
Renters who want an inexpensive upgrade
Home owners who can't afford new
People who want an extra set for their basement, shop or barn
Bonus tips to help you make more money from each sale
Offer delivery. I delivered washers, dryers and ovens within my city for an extra $25. For refrigerators, I charged $50. I tried to batch these so I could deliver 2-3 machines at once.

Offer to install the appliance for an extra fee.

Offer a discount to customers that trade in their old, broken machine. These can often be fixed and resold for full pop. This can provide a nearly endless flow of new stock.

Offer a dryer-vent cleaning service. Of course you'll need to learn how to do this first.
How much money can you make selling appliances on Craigslist?
In 3 months of buying and selling appliances, I made a little over $10,000. This was with a part-time effort that amounted to about 20 hours per week. I stuck exclusively to appliances and this helped me make more money as I quickly got to know the going rates for different machines and knew how much to buy them for to make a profit.
It's possible to earn extra money on Craigslist selling many different things. I like appliances for the reasons I mentioned above, but you can make money on most things if you know the market better than most people.
Question for you:
Have you made money on Craigslist? If so, what were you selling?

Latest posts by Mike Greig
(see all)