This post may contain affiliate links. Please check out my 
disclaimer
 for more information.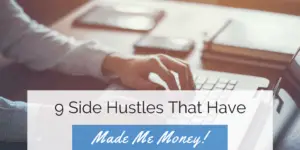 As the things around us become more and more expensive, many people rely on side hustle income to make ends meet. Real estate has gone up more than 20% in my area in the last few years. In that time, wages rose maybe 1-2%. And don't get me started on the price of gas…
The thing is, 'Side Hustle' has reached buzz word status and there's a metric crap-ton of information out there right now about how to make extra money. For those just getting started, trying to figure out how to make some legit extra cash can be more confusing than foreign rap music.
Over the years I've experimented with making extra cash in a number of ways. Some of them have been more lucrative than others but they're all legitimate ways to make cash for a person who has a bit of hustle in them.
Side hustling has actually gotten my family through some tough financial times. It's also freed us up to do things that we otherwise wouldn't have been able to. In my opinion, everybody should have a side hustle.
So here ya go. These are, in my experience, the best side hustle ideas as each one of them has actually made me money.
Cutting Grass
Almost anybody can mow a lawn right? The thing is, not everybody wants to do their own, and that's where why there are so many lawn care businesses.
I don't like to brag, but I ran an unsuccessful lawn care business for a few months back in 2009. I did make some money, but ultimately my ambitions were thwarted by massive competition. At that time, the recession had everybody looking for ways to bank some extra cash, and mowing lawns is a good fit if you own a truck and a mower.
Selling Appliances
This is the most lucrative side hustle I've ever done. I recently wrote a post about how I made 10k selling used appliances. If you have a truck or van and a garage, I can highly recommend that you try this out. There's big cash to be made, but it will also teach you how to flip.
Once you get proficient at learning the value of items on the used market, you can apply that knowledge to almost anything and flip different things for profit. That's all I'll say about flipping here. If you want more info, go check out Tradeskills, where you can learn to start flipping for cash today.
Driving a Limousine
I've got one word for you – TIPS!
Driving a limousine can net you ridiculous tips. On multiple occasions I had guys flip me a 50 or 100 dollar bill while making sure all his friends see. People get into a limousine prepared to spend money and often people will tip big to look like a baller in front of their friends. Ball away homie, I'm happy to get big tips!
Depending on where you live, you might need a special driver's license to do this. I have a commercial trucking license which is reverse-compatible with limousines so it was never an issue for me.
Delivering Pizza
Another side-income earner where tips are what makes it worthwhile. You're not going to earn massive tips driving pizza. But if you're prompt, courteous and can get a lot of deliveries out in a night you can do fairly well. When I was in college I used to regularly do over $100 in a 3-4 hour evening shift. Not bad for driving my own car around! There are pizza places, everywhere, and as demonstrated in the chart below, there's always demand.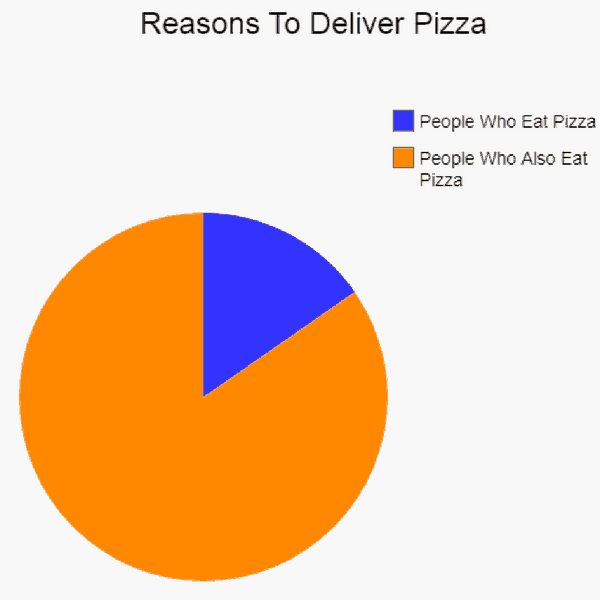 The numbers don't lie.
Selling Items On eBay
I admit, this one is newer to me. I'm really starting to love eBay though. I recently tried to sell a set of flare-nut wrenches on Craigslist. They were a high-end brand and nearly new, but all I got was tire-kickers and low-ballers.
I had the idea that I should try selling them on eBay and listed them one evening. Bids started coming in right away and I ended up selling them for close to what they cost new. I also sold them to an American, so I was paid in USD. For a Canadian, that's good news right now because of the crazy low Canadian dollar.
Warning: The 'Cha Ching!' sound the eBay app makes when you get a bid is seriously addictive. You might want to sell everything you have on eBay. For me it was like sitting down with a Costco-sized bag of Chicago mix for a 'little snack'.
Working Saturdays
Depending on whether you're paid hourly or on salary, you might be able to pick up some extra work on Saturdays. When I was working in excavating I would take on extra Saturday jobs. Sometimes these were with my regular employer and sometimes they were with other people I met through the industry. When I was working with somebody else I would charge them more for giving up my weekend.
I once had a very lucrative Saturday renting a backhoe and burying a horse. Crummy day for the horse owner but it worked out well for me!
Related Post: 26 Budget Hacks To Help You Keep Your Finances On Track
I think there's a ton of opportunity in this hustle. Selling on Craigslist can be tough if you're not a good negotiator or just don't like dealing with the general public.
I've sold some niche items for my in-laws for a commission. I'm a talented negotiator so I can usually get a pretty good price. I try to stick to items that are in high demand so I'm not going to show the thing multiple times and wasting a bunch of time.
Fixing Cars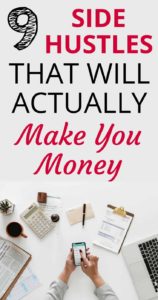 I've done the odd brake job and minor mechanical repair over the years. This isn't my favorite hustle because if you're not careful, you can get in over your head.
I once got into a brake job for a friend and ended up breaking the wheel studs off (the lug nuts were siezed solid) and had to have the car towed as I didn't have the proper tools to remove the hub and change the studs.
I mention this because if you're handy, you can make some extra cash this way. Shops charge big money for even something as simple as a brake job these days.
Related Post: How To Make $500 Fast – 15 Ways To Make Extra Cash This Week
Blogging
I've saved the best for last. This is hands-down my favorite hustle. If you've been reading my blog a while you may remember me mentioning that I used to own an electric car blog. I built it up to a decent following over a couple of years and made a bit of extra money from an affiliate product as well as Adsense ads. The blog is no longer active, but you can have a look here.
Want to start your own blogging side hustle? Get started with Hostinger today for as low as $0.99/month!
Of course there are thousands of great ways to make extra money. These are just a few of the ones that I've had success with!
For more information on finding the right side hustle for you, I highly recommend you check out the Side Hustle Nation podcast by Nick Loper. Dude does a great job breaking down different side hustle opportunities.
Question for you:
What side hustle have you made some extra cash with? 

Latest posts by Mike Greig
(see all)