This post may contain affiliate links. Please check out my 
disclaimer
 for more information.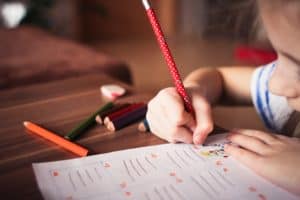 "I'm bored!"
The dreaded words that no parent wants to hear. Children have a way of declaring that they're bored that can drives us parents (who know that they have a room full of toys) crazy. I think they can smell exhaustion, and when they detect that us parents are at our wits end, that's when they pounce with the boredom talk.
Funny how emptying the dishwasher is never enough of an activity to quench their boredom… The reality is, they want you to entertain them. They usually want their parents to rush in and save the day with some amazing, fun activity. 
Consider writing down these ideas on a poster board or chalkboard in your home. To encourage your kids to be decisive and learn how to make fun for themselves, you can ask them to choose an activity from the board when they don't know what to do.
There are hundreds of cheap and free things to do with kids. Sometimes, all you need is an idea to get you started and then you can run with it. That's why I've put together this list of 60+ activity ideas ranging from completely free, to fairly cheap. There's bound to be something on this list that you can do with your kids today.
60+ cheap and free things to do with kids when they're bored
Explore the world using Google Earth
This is a great way to explore other cultures right from your laptop. Pick a country to explore and check out the landscape, cities and culture. You can play games with them like trying to find vehicles of a certain color or try to spot animals. If your kids are a little older they might appreciate a game like geoguessr.
Learn something about a different culture
If you have a globe (or access to Google Earth), choose a country to learn something about. Find one or two interesting facts to memorize about the country.
Have a picnic
Picnics are fun, cheap and easy to throw together. You're going to eat lunch anyways, why not do it at the park with a frisbee?
Go to the park
Most of us live near enough to a decent park. Take the kids there for the afternoon and let them play to work off energy.
Hit the museum
Some local museums are free, or have certain days that are free. If a free museum trip isn't an option check if they've got a family rate.
Go for a walk
A nice walk in the forest, country or a beach can be a great way to pass an afternoon with the kids.
Play hide-and-go-seek
Hide and seek is a classic. It's super fun and best of all…FREE!
Bake cookies
Every kid should learn how to bake cookies. Chocolate chip is a classic but there are tons of types to choose from. This could use up 2-3 hours.
Tackle a simple home improvement project
Do you have a room that you've been meaning to paint, some trim to cut or another smallish project? Why not involve your kids and watch them learn great life skills.
Go to the pool
An awesome way to have some fun while wearing the kids out. They'll sleep well after the pool!
Cook a new recipe
You need to eat anyways, consider involving your kids in the process. Get a cookbook and have them help you choose and prepare a recipe.
Walk them through some financial scenarios
When it comes to teaching your kids about money, you can't start too early. If your kids are keen on learning simple math. Try sitting them down and walking through some scenarios involving compound interest. Show them how compound interest can work for them when investing, and how it can cost them when using debt.
Plant a garden
Find a few simple pots, some soil and seeds and plant a garden with the kids. Let them tend to their food and take pride as it grows.
Visit the library
Libraries are much different than they were when I was a kid. There are books of course, but they also have audio books, newspapers, movies, computers for internet, games and more. Best of all – it's completely free.
Attend a free open-air concert
Many towns have free events throughout the year. We've found a few good open-air concerts near us. Worth looking in to.
Make a movie at home
You've already got a cell phone that works as a video camera. Why not have the kids make a simple home movie? You can write out a basic plot and then have them act it out and involve them in editing. Hours of fun.
You might also like: Does A Family Of Five Really Need A Minivan?
Mini-camping. Set up a tent in the backyard
Camping doesn't have to mean driving for hours and setting up in the bush. Kids can have a blast camping in your back yard. All they need is a tent and some blankets.
Make a cardboard box maze
If you can scare up some larger boxes, an indoor cardboard maze is a great way to pass an afternoon.
Hold a scavenger hunt
Scavenger hunts are fun for kids of all ages (and adults!) All you need are some things to hide and a basic map for kids to follow.
Try out geocaching
Geocaching can be a fun hobby. It's basically a worldwide scavenger hunt that anybody can get involved in.
Fly a kite
A kite can be bought from most dollar stores for very little money. An afternoon of fun for less than $5!
Try a science experiment
A classic is the baking soda/vinegar volcano. Here are some other great ideas for simple science experiments you can do with kids.
Draw on your windows (with washable markers)
Most families with kids have some washable markers kicking around. Why not invite your kids to draw a mural on a window? They can help clean it off later!
Visit a local fire hall
In my experience, most fire halls are happy to have children in to visit. Some will accommodate you anytime and others may require you to make an appointment or join a tour. Give your local department a call to find out how to get a tour.
Visit a pet store
Pet stores are fun for kids of all ages. Most stores are happy to have kids in to check out the birds, cats, dogs, fish, or whatever else they've got.
Learn new words in a foreign language
This is a great life skill for kids to learn. You can work with them to choose a place they'd like to visit someday and with some help from Google, choose some words to teach them in the local language.
Hit up a dollar store
Dollar stores can make for lots of cheap fun. Lots of inexpensive outdoor and indoor toys to choose from.
Have a pillow fight
Most of us have pillows, right? I've yet to meet a kid who's not down for a pillow fight. Be sure to let them win sometimes 🙂
Paint faces
Face paint is another great thing to pick up at the dollar store. A face painting afternoon is a great way to encourage creativity.
Build card houses
I loved doing this as a kid. It takes patience and a stable hand but it can be a ton of fun for the little ones.
You might also like: 23 Fun & Cheap Date Night Ideas (And What To Do With The Kids!)
Play a board game
You probably have a few classics kicking around already. Monopoly, Sorry, Boggle, Life etc. Board games can keep the kids busy for a few hours.
Make pasta jewelry
Younger kids love this one. Pasta jewelry is super cheap and easy to make.
Bake a cake
You don't need an excuse to make a cake! You can make up a fun holiday with the kids and bake a cake to celebrate.
Decorate a t-shirt
Grab an old T-shirt and decorate it with markers, dye or whatever else you've got kicking around.
Make homemade popsicles
You can make popsicles or ice pops from pretty much anything. Gatorade, flavored water, juice, smoothies etc. Kids love making these.
Build a transformers costume from a cardboard box
This is a fairly big project that would require some major parental support, but sooo much fun. Check out this awesome costume.
Make a giant slip and slide
You can pick up a roll of construction poly from any home improvement store. Roll it out on the lawn, add a sprinkler and soap for a good time.
Skip
You've got a skipping rope right? Kids love learning how to jump rope and it's a great healthy activity.
Wash the car
If you're not bored enough to wash the car, then you're not really that bored :). This is one of my favorite free things to do with kids. My kids love helping me wash the car and you can keep them amused while getting some cleaning done!
Vacuum the car!
Our kids love to vacuum. It's rewarding to see how clean they can make something and having the kids help out spreads the work around.
Draw with sidewalk chalk
Another item readily available at most dollar stores. Sidewalk chalk can make hours of fun for the little ones.
Dominos
See how many dominos you can line up and knock over with the kids. You can switch it up and make it more fun by building ramps and including other items like books.
Build sandcastles
If you live near a beach, building sandcastles is a fun, completely free activity that's well worth doing. All you need is a bucket and some imagination.
Play simple card games
You can teach your kids Go Fish, Match and other simple card games. These are great when it's raining and nobody wants to go outside.
Learn a magic trick
Hit up Google and teach your kids a simple magic trick to impress their friends with.
Bake a loaf of bread
Baking bread is a great life skill to learn. A bread machine makes the job easier, but you don't need one.
Tackle a vehicle repair (or upgrade!)
If you've been waiting to change your brake pads or upgrade your car's stereo, why not tackle it today and involve the kids? Learning how to repair things is an important life skill for kids.
Make paper airplanes
A few sheets of paper can make for hours of fun. Try holding a contest to see who's plane will go the farthest or do the most loops.
Play frisbee
Fun and simple – a classic.
Make a 'how to' video for YouTube
This is a great way to teach your kids how to communicate effectively. Have them put together a simple demonstration of how to do something for YouTube. If you don't want your kids' images online, you can post the video privately so only you and others you approve can view it.
Rearrange a room in your house
Have your kids help design how the room could look and rearrange it with you.
Read a story
You've got books kicking around right? Why not choose a longer, chapter book to start reading with them.
Build a blanket fort
Every kid loves a good blanket fort. Extra points for building a fort with multiple rooms!
Look at old photos
Kids love looking at old photos of their parents and grandparents. Check out some old photos with them and see if they can pick out who is in the pictures.
Complete a jigsaw puzzle
If your kids have the patience for a jigsaw puzzle, it's a great way to pass an afternoon. 50-100 pieces is a good size for children to start with.
Try yoga
Pull up a beginner yoga video on YouTube and try doing the poses with your kids.
Blow bubbles
See who can pop the most bubbles.
Make a dream board
Get some old magazines and build a board of things that interest them, or that they'd love to become or do someday. This can be a great teaching opportunity as you can walk them through what is required to achieve their ambitions.
Have an indoor dance party
Turn on YouTube and crank it up. Most kids love to dance.
Make a time capsule
All you need is a container (a mason jar works well) and some memorabilia to bury or store for later down the road.
There you have it! More than 60 ideas for cheap and free things to do with your kids. There's something here for everybody. Pick an activity and have some fun!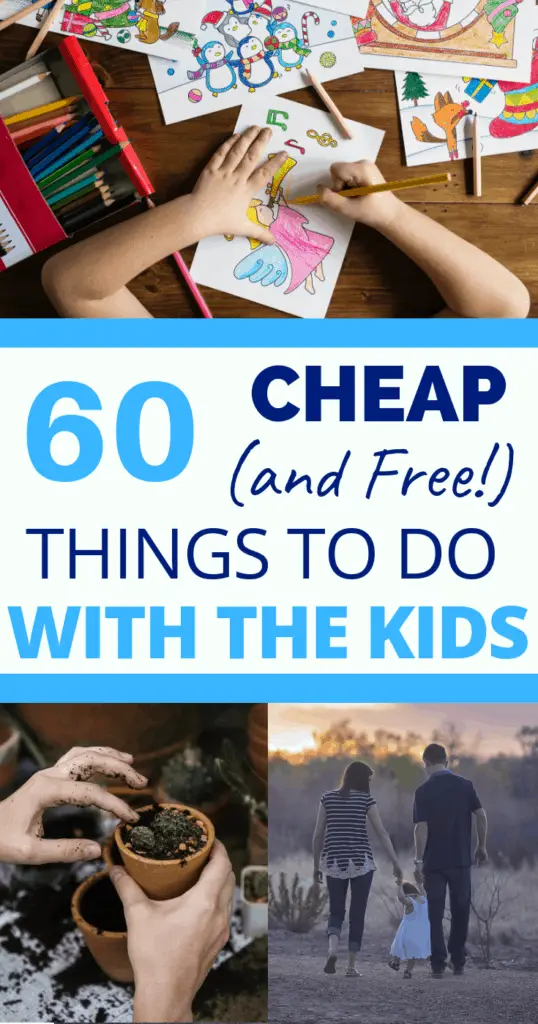 What free activities do you do with your kids?

Latest posts by Mike Greig
(see all)