This post may contain affiliate links. Please check out my 
disclaimer
 for more information.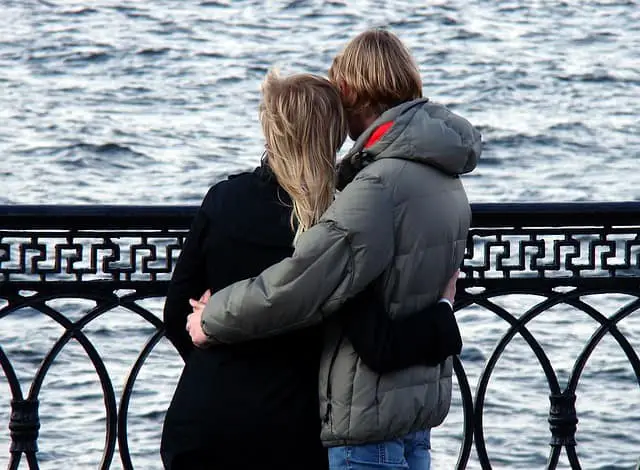 When my wife and I were young and careless (she's still young, and I'm still careless), the biggest money-drain for us hands down was eating out. It took many different forms: but most often it was some form of date night for the two of us or with friends – pub nights, sushi, ice cream, movies etc. We didn't really start experimenting with cheap date night ideas until after we had a couple of kids.
Bottom line: it costs a lot of money to eat out.
But for many of us, eating out is the go-to idea for date nights. It's actually harder to avoid now that we have children because having somebody cook for us (as opposed to three little people throwing fits because they found something green in their dinner) is part of how we relax when we do get out.
That said, there are a lot of ways that you can enjoy a cheap date night with your spouse. You don't have to go to a fancy restaurant or do some pricey activity. I've put together  of the best cheap date night ideas that I could find from all around the web. I'm going to reference this list next time I want to take my wife out.
23 Cheap Date Night Ideas
Board games
We have started a collection of fun board games in our house. We love Scrabble, Scattergories (my fav.) and most recently, Boggle. 
Cost: Free
Try out an escape room
Escape rooms are immersive puzzles that you have to work together and find your way out of. They also show up regularly on Groupon. You can also get board-game style escape rooms. I did one of these with some friends a few weeks ago, they're super fun if you like puzzles. Some great deals can be found on Groupon.

Cost: $20-50
Ice skating
Ice skating is a fun and relatively cheap way to have a great time.
Cost: $15-20
Rent a movie (yes, you can still do this through Google Play or Itunes!)
Pick something that you wouldn't typically watch and make sundaes to go with it. Lots of fun and cheap!
Cost: $10-15
Related post: Why I Stopped Following Dave Ramsey
Cook together
Try making a unique/ethnic dish that you've never had before together. This is lots of fun and you can learn how to make some great foods that you can add into your meal planning.
Cost: $0-20
Go see a movie
I like to buy movie tickets at Costco. There's often a deal here for $25 for two tickets, two soft drinks and a bag of popcorn. You can also use air miles or other points programs to get movie tickets for free.
Cost: $20-25
Dream about home projects
Go to Home Depot or Lowes and dream/plan home projects that you'd like to do together. This can be lots of fun and costs nothing.

Cost: Free
Go house shopping
Even if you're not in the market, it can be fun to check some places out and dream or even go to some open houses.
Cost: Free
Mini golf
Pretty much every town has a mini golf course right?
Cost: $10-25
Do a home project together
This can be anything. What have you been talking about but haven't gotten around to? Renovate a closet, build some shelves or clean up a garden bed.
Cost: Free (plus materials)
Picnic at the beach
If you live near a lake or the ocean, pack up some sandwiches and head out for a picnic together.
Cost: $sandwiches
Frisbee golf
I'm a huge fan of frolfing. If you have a local course why not head up there and try it out? Tons of fun and discs are less than $15.
Cost: $0-15
Detail your car
If you have kids your car definitely needs it. Watch a few YouTube videos on how to properly detail a car and get to it!
Cost: Free
Go through old photo albums
Since smartphones are everywhere, we all have a billion recent photos but it can be fun to bring out the old ones and reminisce.
Cost: Free
Related post: How We Thrive As A Single Income Family
Take a dance lesson
Check out Groupon for this! There's often deals on this kind of thing.
Cost $40-80
Be a tourist in your town
Do something local that you've never done. It could be a park you've never been to, a hike you've never been on or anything else. Think of something popular with tourists that you have never done. Do that.

Cost: $0-50
Hit some garage sales or thrift shops
Thrifting can be a fun way to find great stuff while learning some things about your significant other.
Cost: Free (if you don't buy anything)
Check out a new brewpub or brewery
If you're anything like me, you love a good, local craft beer. Why not support a local business and go try out a flight of their best beers, wines or ciders?
Cost: $20-50
Test drive a fun car
This is a great way to enjoy an afternoon together. Bonus points if you're actually in the market for a new car 🙂
Cost: Free (with some phone calls from the dealer afterwards)
Play some tennis
Many cities have free tennis courts. I've got one less than a kilometer from my house. It's great exercise and a good way to have fun with your spouse.
Cost: Free
Build something together
This could be anything. A bench, planter boxes or a table are a few ideas. 
Cost: $10-50
Repair something together. I love it when my wife joins in on a vehicle or appliance repair. It's fun if it's planned ahead of time and you've got the parts!
Cost: Free
Give massages
Massages are a great way to connect and they're completely free.
Cost: Free
Relate post: 45 Brilliant Ways To Save Money Right Now
Have a Youtube battle
This is a fun idea that you can do on the couch or in bed. We've all seen our share of funny videos over the years, why not take an evening to share the best of the best with your spouse?
Cost: Free
So what do you do with the kids?
Cheap date nights are great, but the money you save can disappear pretty quick when it's time to pay the babysitter am I right? I thought I should add a few cheap babysitting ideas to the end of this post to help you get out and not have to pay a sitter.
Trade babysitting with friends
You don't want to have to pay a sitter, neither do your friends. Why not do a trade once a month. You watch a friend's kids, and they watch yours. Everybody wins.
Trade something else
My wife recently traded a nice young lady a horseback riding lesson for a couple hours of babysitting our kids. Think of ways that you could trade something for babysitting.
Utilize the grandparents!
Grandma and grandpa are always looking for a reason to hang out with the little ones right? Try organizing a night in advance where they can hang with the kids while you sneak out with your spouse.
Question for you:
What do you and your significant other do for cheap date nights?

Latest posts by Mike Greig
(see all)