This post may contain affiliate links. Please check out my 
disclaimer
 for more information.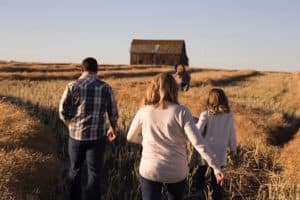 We have been a single income family since our first daughter was born in 2011. Being at home with our children was something that my wife always wanted. After months of talking about what we wanted our family to look like and what our priorities were, we decided to give it a try.
The last 7 years have been incredibly rewarding and we're glad we've made this decision. Often people ask us how we're able to get by with only one of us working full-time.
Keep reading and I'm going to show you the tactics that we have used to thrive on one income.
Why a single income family?
This is a tough thing to explain. Deciding to try and make it as a one-income family is a deeply personal decision. Depending on where you live and what type of work your sole breadwinner does, it can be a very expensive and difficult lifestyle to maintain. We live in a very expensive city in Western Canada and it has been a challenge with constantly rising costs and not-so-constantly rising pay.
Most young couples that I know are at least intrigued by the possibility of living a single-income lifestyle. Many of them feel that it just can't be done with the cost of living, payments, education etc. and so they just accept the way that things are. This post is written as an encouragement to anybody who is considering becoming a one-income family. In my opinion it's not only completely possible, it's totally worth it.
Planning ahead
Planning ahead is going to put you in the best position possible when you give up your second income. I recommend living off of one income and putting the other into savings or a short-term investment for at least six months prior to making the switch.
By doing this, not only will you be accustomed to living off of less money when it comes time to switch, but you'll have a pile of extra cash on standby in case something goes wrong.
Additionally, make sure to spend some time discussing what your priorities are. You're probably going to have to change your lifestyle some and it's important to make sure that you're on the same page as your spouse. You don't want to tell him or her the day after you make the switch that their clothing budget it ¼ of what it used to be.
To have the best chance of success, you'll want to draw up your budget and live by it months in advance.
We live in a townhouse
Would I rather be in a large house on an acreage? Absolutely. Maybe someday we'll be able to turn that dream into reality but alas, now we need to keep our housing costs in check.
I'm sure that we could stretch ourselves and buy a huge house with a rental suite but frankly…our mortgage is super affordable right now. There's something to be said for small and simple.
I'm sure we'll upgrade someday, but for now, our 3-bedroom townhouse works just fine 🙂
Related Post: The Complete Guide To A Zero Based Budget
We have no car payments
When my wife and I first got married, I had an expensive monthly payment for a new pickup truck.
At about 7pm on a Tuesday, I succumbed to the high pressure salesman at our local Ford dealer and bought a 2008 Ranger. Brand. Friggen New.
We have since offloaded the truck and the payment that came with it and though I won't say I'll never have a car payment again (those statements have a way of coming back and biting me in the ass), I will say that owning our vehicles outright is a top financial priority for us.
We don't have brand new cars anymore, both of ours are more than ten years old and we paid for them with cash. The great thing is, anybody can do this. According to CNBC, an average car payment is now over $500/mo. Most of us have two cars, that's $1000/mo that we aren't paying for the privilege of also paying for gas, maintenance, tires and insurance.
If you're stuck with a car payment and don't know how to get out of it, you have options. I've done it, twice actually. Check out this article to learn how to get out of a car loan.
We don't take expensive vacations
Until last month, we hadn't been on a holiday in the 4 years since our son was born. In April, we managed to get away for four days thanks to some awesome grandparents and a super cheap Groupon.
Prior to that, we had twice been to Hawaii. The first time we stayed at a YWAM base (where my wife went to school) for a week…super cheap. The second time our flights and accommodations were paid for by family so we decided we may as well stay for an extra week. We invited friends and split the cost of a van rental and accommodations and of course, shopped at Costco. It was incredibly cheap for Hawaii.
We've realized that we don't get away and explore enough so we're looking into ways that we can get away more on a tight budget in 2019.
We shop for a deal on everything
I compare costs on deodorant. Just today I bought a ten-pack of Old Spice from Costco for $10.99, typically what two of them costs. Yah, I maximize the value of my deodorant purchases and I now have enough to outlast the year.
That's what it takes to make it as a single income family.
When you're living on one income, you simply can't afford not to get a deal. I now check flyers from different grocery store, run out to Costco twice a month, and regularly review all of our bills to see if there's somewhere that we can cut from.
Trade babysitting
Because we want to keep our marriage and our sanity intact, we just need to get out alone sometimes. Dinner, a walk, dessert, movie…whatever. At least once per month we need a few hours for us.
Babysitting is really expensive now. When I was a kid, I babysat the children of a family friend. I'd often spend 4+ hours there and was lucky to make it out with $20. The going rate around here now for multiple kids is $15/hr. Ugh.
We do hire babysitters when we're in a pinch, but we try to utilize grandparents as much as we possibly can. My wife also has a deal with a young lady where she watches our children in exchange for riding lessons (my wife is a horsemanship instructor). It works swimmingly.
Another options is to trade babysitting with friends. You can each take a night out per month and get a chance to be alone.
Related Post: How To Ask For A Raise At Work (And Actually Get It)
My kids don't have awesome new stuff
Well, not much of it anyways. I am surprised how often new toy trends come along and with three kids, we can't afford to keep up with them.
We typically buy our kids one larger gift and one smaller gift for Christmas and one gift for their birthdays each year. In my opinion, kids are happier and less distracted when they don't have too many toys. Also, helping them understand what we can afford teaches them to see value in things and make difficult choices when they want two things
We don't carry high-interest debt
We have a credit card that we use for travel points, it's around 9% and we don't carry a balance on it. In fact, after we paid off all of our debt in 2014 I called the company and had them reduce our limit so we wouldn't be in a position where are tempted to spend money that we don't have.
We use the card for large and online purchases as we get travel rewards, but don't carry a balance.
Find ways to make extra money
Reducing your expenses is a great start. Another way to fill the gap when you become a single-income family is to earn some extra cash. There are countless ways to do this, I've listed some of my favorites below:
Buying and reselling items on Craigslist
I have done this successfully with appliances (thanks to Ryan at Tradeskills), phones, electronics and furniture.
Back in 2014, I made over 10k selling appliances. If you want to learn how to start an appliance reselling business, check out Tradeskills.io.
Selling extra stuff on Amazon or eBay
Same deal, but instead of selling stuff locally, you do it online. This is well suited to smaller items but I recently learned that Rob and Melissa from Flea Market Flippers ship larger stuff through Ebay as well. I'm a Canadian Eh, so I like selling on Ebay.com to take advantage of the relatively high US dollar at the moment.
Use your skills to pick up some freelancing gigs
Some examples of things you could do are writing, editing, building websites, SEO/digital marketing or graphic design. You can start by advertising your skills on Craigslist, or check out some other places to pick up gigs.
If you're looking into ways to earn some extra money at home I would HIGHLY recommend that you check out the Side Hustle Nation blog or podcast. Nick Loper interviews successful side hustlers (entrepreneurs) in various industries and teaches about different ways to earn money.
When you can find a way to earn $500 extra per month, and you're able to cut out some of what you're spending, all of the sudden the income loss isn't quite as much of a shock as it could have been.
Conclusion
I want to encourage anybody who is considering moving down to a single income not to dismiss the idea because of cost. In my experience, most people have a lot of places that they can cut expenses and a lot of talents that they can use to make a few extra bucks on the side.
Is yours a single income family? How do you make it work?
I'd love to hear about your experience in the comments below!

Latest posts by Mike Greig
(see all)